Missing key pieces, Dodgers succumb to Braves
Missing key pieces, Dodgers succumb to Braves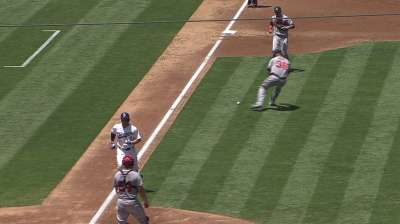 LOS ANGELES -- The Dodgers have mixed and matched to plug holes all season, and Sunday afternoon was no different.
In the series finale against the Braves, the Dodgers needed an emergency start from Matt Magill and featured a lineup with rookie Scott Van Slyke and scuffling Luis Cruz in the middle of the order, with Hanley Ramirez and Andre Ethier both unavailable due to injury. The result was an 8-1 loss to the Braves at Dodger Stadium.
"It's been a circus," said Dodgers manager Don Mattingly. "We've not formed really any consistency as a team yet. We're just juggling all the time. We're juggling starters. We're juggling players. It's almost on a daily basis that we're talking about our next roster move."
There could be more than one roster move on Monday. Ramirez had an MRI on his ailing left hamstring on Sunday and could be headed back to the disabled list. Mattingly isn't sure how well Ethier will recover from a sore right foot injured when he fouled a pitch off it Saturday night.
"We've talked about being able to get an extra guy," Mattingly said. "I guess it will depend on Hanley."
Whatever the move will be, it is evident Mattingly is frustrated with the lack of healthy bodies on his bench.
"We can't continue to play short," the manager said. "I played with two extras today [Jerry Hairston and Juan Uribe] and a backup catcher [Ramon Hernandez]. I didn't have Andre. I didn't have Hanley. You can't play the National League game like that.
"We can't continue to do this. If you can't play, for me, you have to be on the DL. We can't be trying to hang on and give a guy an extra three days. If you play short in this league, you're just giving games away. That's what we're trying to do. If you can't play, you just can't play."
Yasiel Puig can play, and is one of the few healthy Dodgers. The Cuban sensation doubled and had three hits to raise his average to .464. It was his fifth multihit performance in seven games since being called up from Double-A.
"He's unbelievable," said Cruz, whose locker is next to Puig's. "He's been hitting so far and hopefully he continues to do it and helps us win some games."
Mattingly has praised Puig's energy level since the outfielder joined the Dodgers on Monday.
"He's kind of bounced in and said, 'Hey, I want to play every day,' and so he's going to play every day," Mattingly said. "If he keeps throwing up two, three hits every day, he's going to play. I think that's the same thing we need all over the place, basically a lot of guys saying, 'I want to play and I'll do the job.'"
Skip Schumaker extended his career-high hit streak to 15 games with an infield single in the first that scored the Dodgers' only run.
The Dodgers called up Magill from Triple-A to start in place of left-hander Ted Lilly, who went on the 15-day disabled list with a chronic disc issue in his neck. But Magill's second emergency start this month didn't go much better than his first.
Magill labored, needing 84 pitches to record 11 outs. The right-hander walked six and allowed seven runs (three earned) on four hits.
"I'm not giving myself a chance to win games," said Magill, who has walked 15 in his last two outings combined.
Magill worked around three walks in the first two innings before things unraveled in the third. A walk, an error by first baseman Adrian Gonzalez and a single loaded the bases for Atlanta with one out. Evan Gattis tied the game with a sacrifice fly and Dan Uggla followed with a three-run shot into the Dodgers' bullpen to give the Braves a 4-1 lead.
Atlanta tacked on three runs in the fourth as Magill's command issues persisted. The rookie issued two more walks and loaded the bases with two out. Freddie Freeman then laced a three-run double that sent Magill to the showers with the Dodgers trailing, 7-1.
Last Sunday in Colorado, Magill started in place of Hyun-Jin Ryu and allowed four homers and nine walks in six innings.
In 27 2/3 innings this season, Magill has walked 28 and struck out 26. He began the year 10th on the pitching depth chart and has made six starts only because of a host of injuries to the rotation.
"I feel like most of the time when I'm walking guys, I'm trying to be too fine and too perfect," Magill said. "But right now it's not that at all. I'm not missing by a few inches; I'm missing by feet right now. It's frustrating."
Uggla went deep again in the fifth, a solo shot off Ronald Belisario, for his 18th career multihomer game and the second baseman's third long ball of the series.
Belisario settled in after that and retired six of the next seven Braves. Matt Guerrier, Paco Rodriguez and Peter Moylan each fired scoreless innings in relief.
The Dodgers had a chance to break the game open against Braves starter Mike Minor in the first, loading the bases with no outs, but managed just one run.
"I knew I was a couple pitches away from getting out of it," said Minor, who earned his eighth win. "It could have been really bad. But I knew if I made quality pitches that I could get out of it."
Austin Laymance is an associate reporter for MLB.com. This story was not subject to the approval of Major League Baseball or its clubs.