Uggla swats pair as Minor, Braves cruise in LA
Uggla swats pair as Minor, Braves cruise in LA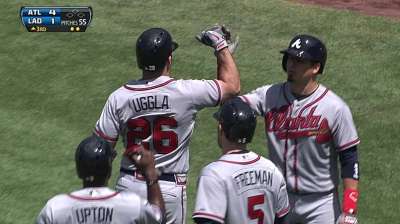 LOS ANGELES -- Since joining the Braves before the start of the 2011 season, Dan Uggla has proven to be both maddening and unpredictable. The two prolonged slumps he has endured during his days in Atlanta were interrupted by a long impressive stretch during which he performed like he had during his successful days with the Marlins.
Through the first two months of this season, Uggla extended the woes that haunted him through last season's final four months. But over the past week, the veteran second baseman has shown signs that he might be in the beginning stages of another highly productive stretch.
As the Braves celebrated Sunday afternoon's 8-1 win over the Dodgers at Dodger Stadium, Uggla was once again flashing that smile that has been absent most of the past year. His second multihomer game of the season highlighted this convincing victory and gave him reason to believe he might be turning things around.
"You always want to feel like you matter and feel like you're a factor," Uggla said. "It [stinks] to feel like I felt last year and this year. You feel like you're a non-factor. So to get some homers, get some runs and drive in some runs, it feels good."
Uggla highlighted a four-run third inning with a three-run home run, then added a solo home run in the fifth. His close friend Freddie Freeman hit a three-run double in the fourth to provide even more comfort to Mike Minor, who pitched six strong innings after limiting the Dodgers to one run after they loaded the bases with none out in the first.
Minor's escape act combined with Uggla's power paced the Braves, who split this four-game series, despite totaling just three runs in the first three games. They are a season-high eight games in front of the second-place Nationals in the National League East race.
"The batting average is what it is," Uggla said. "It's not the first time I've hit .160, .170 or whatever it is. I throw those numbers out the door. I look at it like we're up [eight games] right now and that's without me doing anything at all."
A majority of Atlanta's recent offensive contributions have come from Freeman, who has batted .354 with 24 RBIs in his past 24 games. The 23-year-old first baseman added to his recent success when he chased Dodgers starter Matt Magill with his opposite-field three-run double.
"He's been the most consistent hitter we've had," Braves manager Fredi Gonzalez said. "He's come up with some big two-strike hits."
While Freeman has been a model of consistency, Uggla has consistently battled disappointment as his batting average has remained below the Mendoza Line throughout this season. But through his struggles, he has continued to show the power he possessed while hitting at least 30 home runs over the course of five consecutive seasons (2007-11).
Uggla opened his most recent multihomer game with his third-inning shot off Magill, who issued six walks in just 3 2/3 innings. He capped it with a solo drive in the fifth inning off Ronald Belisario.
Combined with his solo shot in Saturday night's 2-1 win, Uggla hit three home runs within a span of five at-bats to raise his season total to 13, second among all Major League second basemen. He has also raised his batting average from .175 to .193 with seven hits in his past 20 at-bats.
"He's swinging it pretty good right now," Gonzalez said. "That's the stuff he can do right there, what we saw today."
After hitting .173 through his first 86 games of the 2011 season, Uggla produced an Atlanta-record hitting streak in the 33 games that followed. That streak marked the start of a 130-game stretch -- over two seasons -- in which he batted .291 with 34 home runs.
In the 157 games that have followed, Uggla has hit .188 with 22 home runs. But the Braves are certainly going to hold out hope that he is indeed in the early stages of another turnaround.
Minor has certainly turned things around since entering last July with a 6.20 ERA. In the 28 starts that have followed, he has posted a 2.32 ERA and gained the maturity that was on display after the Dodgers loaded the bases in the first with Yasiel Puig's first-pitch single, a bunt single and a walk drawn by Gonzalez.
The only thing that prevented Minor from escaping that potentially damaging threat unscathed was Skip Schumaker's two-out RBI dribbler that traveled approximately 45 feet down the third-base line.
"I knew I was a couple pitches away from getting out of it," Minor said. "Or it could have been really bad. But I knew if I made quality pitches that I could get out of it. I pitched around Gonzo just because he has hit me pretty well in the past. I just tried to make quality pitches."
Mark Bowman is a reporter for MLB.com. This story was not subject to the approval of Major League Baseball or its clubs.