Lohse, offense dominate Phillies in finale
Lohse, offense dominate Phillies in finale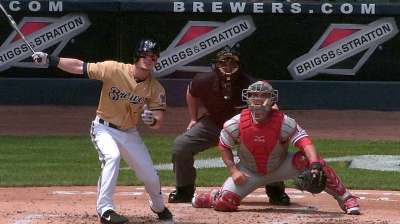 MILWAUKEE -- Martin Maldonado, the Brewers' starting catcher on a warm, spring Sunday at Miller Park, knew he was in for a fun afternoon when Kyle Lohse snapped his first slider from the bullpen mound.
That pitch had been missing since Lohse developed discomfort in his elbow last month, but it returned against the Phillies and carried the veteran right-hander through eight sharp innings of a 9-1 Brewers victory, the team's third in a row. Rookie Scooter Gennett helped too, by logging his first Major League RBIs, and Carlos Gomez by hitting a home run on his bobblehead day.
For the first time in six weeks, Miller Park celebrated a bona fide Brewers winning streak.
"I'm real happy about it," manager Ron Roenicke said. "We played a good series, and we haven't had too many good series."
Before Sunday, the Brewers had not won three in a row since a nine-game run in mid-April pushed the team as high as second place in the National League Central.
It had been mostly downhill since then, with the Brewers and Cubs jockeying for last in the division. Now Milwaukee has won six of its last 10 games, and left for a three-city road trip Sunday night that includes stops in Miami and Houston sandwiched around a tough series in Cincinnati.
The Brewers' only bad news Sunday came in the bottom of the third inning, when left fielder Ryan Braun exited because of a setback with his sore right thumb. That problem has sapped Braun's power for weeks, and will probably sideline him for Monday's series opener in Miami. It had Roenicke expressing some urgency Sunday morning about finding ways to get his best hitter back to good health.
Lohse lightened his manager's mood by allowing only one Phillies run on four hits in eight innings -- the best outing by a Brewers starter this season. He walked one, struck out six, threw 102 pitches and came within three outs of pitching the Brewers' first complete game since Yovani Gallardo's two-hit shutout of the Braves on April 5, 2011.
The key was that slider, a particularly important pitch for Lohse because it runs away from right-handed batters or into left-handers. He plays that pitch against his changeup, which dives in on lefties and away from righties, but had been struggling with it since developing pain in his elbow in early May. Sunday marked Lohse's third start since missing a turn in the Brewers' rotation to rest his arm, and the first time that his slider was sharp.
"I'd kind of been throwing just a lazy thing in there, and I've gotten hurt more times than not when I either can't go to it, or it's not as sharp as it needs to be," he said. "To be successful, I have to have both sides of the plate."
The Phillies hit three singles in the first inning, but did not score because Brewers right fielder Norichika Aoki fielded Ryan Howard's hit and fired a strike to Maldonado, who had home plate blocked and applied a tag to Michael Young for the second out of the inning.
"The guy made a perfect throw from right field," Young said. "I think the biggest thing for us is not always capitalizing, but just making sure we're getting guys out there. The thing that is most disappointing is we didn't get anybody out there after that. You want to have more opportunities."
Lohse, who has also been managing a tight left hamstring, did not allow any more opportunities. He retired the dangerous Domonic Brown to strand two remaining runners, and did not allow another base hit until Humberto Quintero hit a home run with two outs and the bases empty in the eighth. The Phillies' only baserunner from the second inning through the end of the seventh was the opposing pitcher, Jonathan Pettibone, who worked a walk leading off the third inning and was promptly erased on a double play. After the walk, Lohse retired 16 hitters in a row.
It marked the first time this season that a Brewers starter worked into the eighth inning, and Roenicke hopes it's contagious.
"[Reliever Jim] Henderson had to just go one inning, so the rest of the guys will be fresh for the Miami series," Roenicke said. "Yeah, any time your starting staff throws well, guys feed off of that."
The Brewers supplied plenty of offense, scoring four times in a second inning highlighted by Gennett's two-run triple and Lohse's safety squeeze bunt. Gomez celebrated his bobblehead day by hitting a two-run homer -- his team-best 11th of the season -- for a 6-0 lead in the sixth, and Jean Segura added two more runs on a single in the seventh. After Quintero's homer put the Phillies on the board, Maldonado homered for the Brewers in the eighth.
The nine runs were the most the Brewers had scored in a Lohse start this season. He entered the day with the second-worst run support in baseball with 2.42 runs per game. That was a big reason he had not won since April 22 in San Diego, the night he dislocated his left pinky finger on a play at first base.
"It feels good. It's a long season, so you know things are going to have their ebbs and flows," Lohse said with a shrug. "You know we're going to score runs sometimes; we're not going to score runs sometimes. As a starting pitcher, you have to go out and keep your team in it no matter how many runs they're scoring. For the most part, I've been able to do that."
Does he sense the club turning a corner?
"What we have to do is keep our heads down and keep playing ball like we did these last three games, or last week, 10 days, whatever it is," Lohse said. "That's the only way we're going to get it going."
Adam McCalvy is a reporter for MLB.com. Read his blog, Brew Beat, and follow him on Twitter at @AdamMcCalvy. This story was not subject to the approval of Major League Baseball or its clubs.