Victorino not in lineup as part of scheduled day off
Victorino not in lineup as part of scheduled day off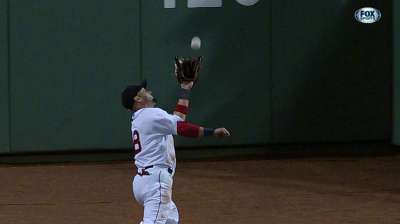 BOSTON -- One day after returning from the disabled list, Shane Victorino was not in the Red Sox starting lineup Sunday.
Manager John Farrell said it was a scheduled day off and part of the plan to ease Victorino back into playing on a daily basis.
"We'll look to pick some spots for him," Farrell said. "That might be two [days] on, one off, that type of scenario. We're not stuck to that, either. Most of this is going to depend on how Shane responds. But today was a planned off-day from the get-go."
It didn't take long for Victorino to test the limits of his healing left hamstring, which held him out of action dating back to May 20.
In the first inning Saturday, Victorino scored from first base on a double by Dustin Pedroia and capped off the play with a head-first dive into home.
He was slow to get up, but remained in the game.
"We got a quick test right out of the gate in the first inning, obviously, going first to home on that double," Victorino said Saturday. "You know, as I said, I felt it a little bit there, but maybe it's just me consciously finally getting the chance to go first to home and really accelerating, but it didn't really hamper me the rest of the game. I felt it a little bit here and there but, for the most part, it felt pretty good. I lasted nine and we'll go from there."
The incident was enough to worry his manager, but aggressiveness is part of Victorino's game and Farrell won't ask him to change it.
"We're never going to ask a player to be someone who he's not," Farrell said. "That means to play -- we ask them to be smart about it, but we know that instincts and characteristics are going to kick in. He was activated all of an hour, and he's going first to home, a piece of sod gives way, it grabs the hamstring, and he's lying at home plate. We thought, one inning in, this has the potential of not being too good. Fortunately, he came out of it OK."
Victorino was 1-for-5 in the game with a run. He entered play Sunday batting .280 on the year.
Michael Periatt is an associate reporter for MLB.com. Follow him on Twitter @Michael Periatt. This story was not subject to the approval of Major League Baseball or its clubs.