Homers haunt Blanton as Halos fall in Boston
Homers haunt Blanton as Halos fall in Boston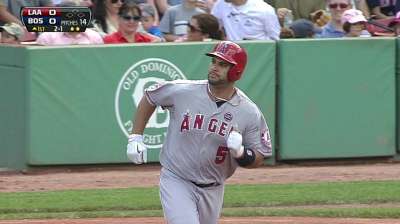 BOSTON -- It looked like Joe Blanton had finally turned a corner. Then he struggled when the competition got stiff on Sunday afternoon, sinking the Angels in a 10-5 loss to the high-powered, American League East-leading Red Sox at Fenway Park. And now, Blanton's numbers for the season are haunting.
A 1-10 record, the worst in baseball.
A 5.87 ERA, the highest in the American League.
One-hundred and eleven hits allowed, more than any other pitcher in the Majors.
"I'm never frustrated. It is what it is," Blanton said, somewhat shrugging his shoulders after the Angels fell to 27-36 in this season. "I went out and did my best today."
Blanton's best was far from good enough against a Red Sox team that leads the Majors in OPS and is now 14 games above .500. On the heels of notching three straight quality starts -- while posting a 2.95 ERA and issuing no walks in 21 1/3 innings -- Blanton gave up seven runs (six earned) on eight hits (three of them long homers) in five-plus innings.
Most of the damage came in a four-run third inning, when Blanton gave up a three-run homer to David Ortiz -- his second in as many games and 13th of the season. But there were also two other homers, towering ones by Jarrod Saltalamachhia and Mike Carp that came back-to-back to begin the sixth.
"The other two homers were inches from where I wanted it -- a get-me-over curveball and a fastball that [caught too much of the plate]," Blanton said. "Definitely not a bad pitch. It is what it is."
Blanton has been an easy target for Angels fans this year, beginning with the day he was first acquired -- many thought Jerry Dipoto would be signing Zack Greinke to a massive contract on Dec. 12, not obtaining Blanton for two years and $15 million -- and continuing through these frustrating first 10 weeks.
Blanton has, at times, been the victim of poor run support, losing five of his six quality starts, and works about as hard as anyone between starts. But he simply hasn't pitched well, and he can sometimes come off as dismissive -- oblivious, even -- when addressing his own struggles.
"Joe, like any player, understands it's a proving ground every day you're out there in Major Leagues," Angels manager Mike Scioscia said. "He doesn't have his head buried in the sand. He works very hard at keeping himself in shape, in trying to be the consistent pitcher we know is in there. I think there is a sense of urgency to what he wants to do. Unfortunately, we're not getting the results."
After Blanton exited, Robert Coello gave up a three-run homer to Saltalamacchia in the seventh, giving the Red Sox a 10-3 lead. And when the Angels were starting to rally with two outs in the eighth, adding a couple runs and seeing four straight batters reach base, J.B. Shuck was late seeing third-base coach Dino Ebel's stop sign for Chris Iannetta, causing him to make too wide a turn at second base and get picked off to end the inning.
"I have to be anticipating that, knowing who's in front of me," Shuck said. "I got going a little bit, but I was a little bit too late."
Since winning eight straight games, the Angels have lost nine of their last 13. They've won only six of the 21 series they've played this season, putting them nine games below .500 and 10 1/2 games back in the AL West.
At this point last year, they were 33-30 and had already rebounded from their poor start.
This year, they can't find any sort of consistency.
"It's not frustrating, it's just part of the season," said Angels slugger Albert Pujols, who hit his 10th homer of the season, off Ryan Dempster, in the first. "It's a long season and you can't get frustrated. That's the last thing you want to do in this game. You just need to keep fighting and keep pushing out there as much as you can, hopefully get a good streak going."
Alden Gonzalez is a reporter for MLB.com. Read his blog, Gonzo and "The Show", and follow him on Twitter @Alden_Gonzalez. This story was not subject to the approval of Major League Baseball or its clubs.