Bullpen called on early after Cahill's rough outing
Bullpen called on early after Cahill's rough outing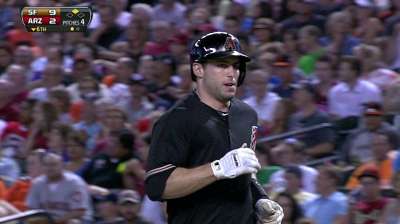 PHOENIX -- Paul Goldschmidt tied a D-backs record on Saturday night at Chase Field by driving in a run in his eighth consecutive game, but that was not enough to offset the club's sudden starting-pitching problems.
For the second time in the past three games, an Arizona starter could not make it beyond the fourth.
On Saturday night, it was right-hander Trevor Cahill, who was shelled by the Giants for eight runs on nine hits in a 10-5 loss. Cahill was lifted with two out in the fourth after Buster Posey's two-run homer. Hunter Pence added a solo shot later in the game.
On Thursday night in St. Louis, it was Ian Kennedy, who allowed 10 runs on 13 hits through four innings in a 12-8 loss to the Cardinals.
Cahill and Kennedy combined to allow 18 runs on 22 hits in 7 2/3 innings.
"We'd like to have better performances, but it wasn't long ago that the starters were dominating," D-backs manager Kirk Gibson said. "It's the ups and downs of the season. We'll have to reflect on what happened and have [Cahill] turned around for his next start, the same thing with Ian. It's just part of going through a season."
The Giants scored six times off Cahill in the fourth inning in a matter of 24 pitches.
"It happened quickly," Gibson said. "He's struggled on the release point of his sinker this year. Tonight, he just didn't have his good stuff."
It was already 9-0 in the sixth inning Saturday when Goldschmidt tied the club record of RBIs in consecutive games by driving in his National League-leading 58th run with an infield grounder. Luis Gonzalez had held that mark alone since June 3-11, 2002.
Goldschmidt beat the Giants on Friday night with a three-run, eighth-inning homer.
"Right now he's on a good roll," Gibson said of Goldschmidt. "He may eventually go through a period when it's not going good at all. But you have to hold on to the good times. It's hard sometimes. I went 2-for-42 one time. It's harder to hold on to it. But you have to do it."
In that inning, the D-backs knocked out Giants starter and winning pitcher Madison Bumgarner (5-4) and scored four times. To the chagrin of Giants manager Bruce Bochy, three pitchers walked four D-backs in the inning as Arizona came back to 9-4.
"It's never easy," Bochy said. "In this park a game can get away from you pretty easily. I had to go into my bullpen more than I wanted to make sure it didn't happen."
The Giants have won the World Series two of the past three years on the strength of their starting pitching, which itself has gone through a downturn of late. Since Bumgarner was brought up to the Majors exactly three years ago, none of the Giants' starters have suffered an arm injury.
Barry Zito was lost to an ankle injury for much of 2011 and Ryan Vogelsong is currently on the disabled list with a fractured pinkie. That's it.
Based on long-term past performance, the Giants starters should bounce back.
"It's hard to go through it sometimes, though," Bochy said.
The D-backs haven't been so fortunate. Beyond Patrick Corbin's 9-0 record, the staff is 13-20 as Cahill fell to 3-7. One of those starters, Brandon McCarthy, is on the disabled list with a right shoulder strain and there is no timetable for his return. Any hope of Daniel Hudson rejoining the staff this season ended earlier this week when he again tore the UCL in his right elbow in a Minor League rehab start.
Hudson has been out a year and is facing another round of Tommy John ligament replacement surgery.
The D-backs already have recalled Tyler Skaggs to make a pair of spot starts, and he is in the rotation for the immediate future, Gibson said. Skaggs is slated to start the series finale on Sunday against Giants right-hander Chad Gaudin, who is filling in for the injured Vogelsong.
Starting was perceived to be one the D-backs' strengths, but the rotation right now is 19th in the Majors and 11th in the National League with a 4.24 ERA. The Giants' starters, believe or not, are even worse with a 4.78 ERA at 24th and 13th respectively.
Yet, the teams are 1-2 in the NL West with the Giants trailing Arizona by 2 1/2 games.
Certainly, this wasn't what was expected out of the D-backs' rotation.
"No, not really," Cahill said. "Corbin's been really good and the rest of us have had our ups and downs. I think we've just got to keep plugging away. Take one start at time and make quality pitches. If we do that, it should work itself out."
Barry M. Bloom is a national reporter for MLB.com and writes an MLBlog, Boomskie on Baseball. Follow@boomskie on Twitter. This story was not subject to the approval of Major League Baseball or its clubs.