Buchholz goes to 9-0 as Red Sox earn split
Buchholz goes to 9-0 as Red Sox earn split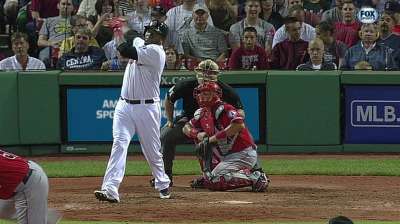 BOSTON -- Clay Buchholz is making consistent dominance look too easy. The Red Sox sure are enjoying the ride.
Fueled by more mastery from the righty, Boston salvaged a split of a day-night doubleheader on Saturday night with a 7-2 victory over the Angels in Game 2.
There was one reason for some mild concern, however. Buchholz came out of the game with two outs in the top of the seventh with tightness in his neck.
He will undergo more tests by the training staff with the hope of making his next start.
The injury occurred on a strange play in the top of the sixth inning. Howie Kendrick hit a line drive that knocked Buchholz's glove right off his hand. Buchholz left his glove on the ground and chased down the ball behind the mound. His throw to first was too late to get Kendrick.
"A little nagging there for a couple of innings," said Buchholz. "It was right after that ball that hit off my glove. When I threw it to first base, that's when it sort of tightened up a little bit. I figured that when I got the double-play ball and didn't turn it [in the seventh], I figured that was enough. I didn't want to push my luck."
This wasn't an easy night on Buchholz's body. In the fourth, he fielded a grounder by Alberto Callaspo and stumbled over the first-base bag as he recorded the out.
"It felt the like the most athletic, unathletic play I've ever made," Buchholz said.
However, the Red Sox are paying Buchholz to pitch, not field, and he's doing that as well as anyone in baseball this season. In this one, he allowed six hits and two runs, walking one and striking out four.
"That's what it's all about," said Buchholz. "You get on rolls, and you've got to ride them as long as you can. When you go out there and get hit around a little bit, you've got to respond to it. Hopefully, it doesn't happen all year, but sooner or later, it does. It happens to everybody, so I'm going to try to ride it as long as I can, and hopefully the guys keep hitting and score some runs."
In his first 12 starts of the season, Buchholz is 9-0 with a 1.71 ERA. And for the 11th time in those 12 starts, Buchholz allowed two earned runs or fewer.
"I think the body language speaks volumes, the way he shows a relaxed confidence on the mound," said Red Sox manager John Farrell. "His ability to manipulate the baseball is not only impressive, but it's been extremely consistent. It's very impressive to see not only his ability to manipulate the baseball for different types of pitches, but the way he can repeat sequences and really keep a hitter on his heels and somewhat guessing. It's been very impressive."
It was also a strong night offensively for the Sox. David Ortiz hit a majestic two-run homer to right in the sixth, a towering blast that landed roughly 20 rows into the stands beyond the 380-foot sign.
"I wish I had that kind of pop," said Red Sox catcher David Ross. "I've hit a couple in my day, but that guy seems to impress me every day. I mean, the walk-off the other day may have been one of the hardest balls I've seen hit until the one he just hit today. That guy impresses me every day."
The shot by Ortiz gave Boston a 7-2 lead.
"Any time he hits one, it's a good one, whether it's a foot over the wall or 40 feet beyond," said Farrell. "Tonight, he gave us a chance to get a little bit of breathing room, where you get two consecutive games in a day and you're trying to stay away from certain guys down in that bullpen and it afforded us that ability to do that. When he squares a ball up, there's not much doubt in where it's going to land."
Dustin Pedroia chipped in with a pair of RBI doubles.
After dropping the first game, 9-5, the Red Sox went on the attack early against Angels lefty C.J. Wilson. Shane Victorino, fresh off the disabled list, led off the first with a single to left. Jonny Gomes clubbed a double off the Green Monster and Victorino raced around from first for the first run of the game. Pedroia followed with the first of his two RBI doubles to make it 2-0.
"I guess they noticed that I didn't walk anybody the last couple games, so they just came out swinging," Wilson said.
An inning later, Boston did all of its damage with two outs. Gomes got it started with a single. Pedroia drew a walk. Up stepped Ortiz, and he belted an RBI double to left.
Buchholz ran into some trouble in the third when Hank Conger led off with a double and Mike Trout brought him home with a one-out single to right to make it a 3-1 contest.
Again, the Sox came through with two outs in the fifth, this time on an RBI single to right by Stephen Drew.
The Angels got one back in the sixth when Josh Hamilton led off with a double and scored on a sacrifice fly by Mark Trumbo.
With Buchholz pitching, the lead was not going to slip away. And once he departed, Craig Breslow and Junichi Tazawa finished off the long day with scoreless relief.
"It's always good to win," Buchholz said. "That's a tough team. Obviously, they played us really good earlier in the day. To limit that team to two runs is a pretty big feat given all the names that are in that lineup. It was definitely a good day whenever you can split two games with those guys."
Ian Browne is a reporter for MLB.com. Read his blog, Brownie Points, and follow him on Twitter @IanMBrowne. This story was not subject to the approval of Major League Baseball or its clubs.