Pettitte's son drafted by Yanks, but likely off to Baylor
Pettitte's son drafted by Yanks, but likely off to Baylor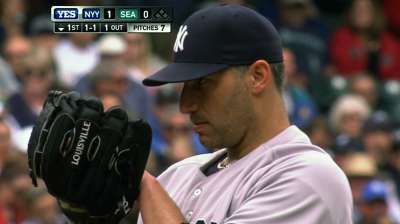 SEATTLE -- Josh Pettitte had a seat on the couch in the visiting clubhouse at Safeco Field on Saturday, having just watched his father exit in line for a career milestone, when the afternoon suddenly became a memorable one for the family's next generation as well.
With the Yankees working to nail down Andy Pettitte's 250th victory out on the field, the younger Pettitte's cell phone buzzed with news from Tampa, Fla., where director of amateur scouting Damon Oppenheimer was calling to report the Yankees had just selected him in the 37th round of the First-Year Player Draft.
"It's a great honor and blessing getting the call from the team that you've grown up watching and all the big leaguers play for," said the 18-year-old Pettitte. "It's just a true honor and blessing to get the call from the New York Yankees to say they drafted me."
Pettitte, a right-handed pitcher, had a standout season for Deer Park (Texas) High School that included two no-hitters, but both father and son said that their plans are to have Josh begin attending classes at Baylor University in the fall.
"I was actually shaving and I came walking out here and he was on the phone," Andy Pettitte said. "He told me he had just spoke with Damon. I just gave him a big hug and a kiss and told him I love him and I'm proud of him. I said, 'Let's see what happens three years from now.' Dad wants him to go to school."
Josh Pettitte was selected 1,124th overall in the Draft, and said that he hopes to be selected higher in three years. He said the fact that it was the Yankees who came calling will not change his plans to attend college.
"I don't think so," Josh Pettitte said. "Me and my dad and our family, we had a talk before the Draft started. I wasn't going to sign for that kind of money, but I'm extremely just blessed and honored to be drafted by the Yankees."
Andy Pettitte said that he was pleased with the season put forth by his son, who had an 11-0 record with a 0.65 ERA and 105 strikeouts in 79 innings during his senior season, reportedly adding nearly seven mph to his fastball.
"He was in a good situation," Andy Pettitte said. "He got an opportunity to have a lot of different teams look at him, and the money wasn't going to be there as far as what I thought he would need to pass up on Baylor. Obviously, we'll talk about stuff, I'm sure, but Dad's hoping that Baylor is what he'll want to do and see where things are three years from now."
As Josh chatted with a group of reporters on the clubhouse carpet, Yankees closer Mariano Rivera laughed and tried to distract the young hurler from his interview, while Joba Chamberlain grabbed his cell phone and recorded the moment for posterity.
"I just told [Andy] he'd better hang on for another five or six years because he has to pitch with his son," Rivera said. "That's good. I wish him the best. I'll be praying for him. It's not an easy career, but at the same time, if he wants to do it, I think that he has the right guy on his side."
Josh Vitale is an associate reporter for MLB.com. Bryan Hoch is a reporter for MLB.com. Follow him on Twitter @bryanhoch and read his MLBlog, Bombers Beat. This story was not subject to the approval of Major League Baseball or its clubs.