Angels settle for split after dropping nightcap
Angels settle for split after dropping nightcap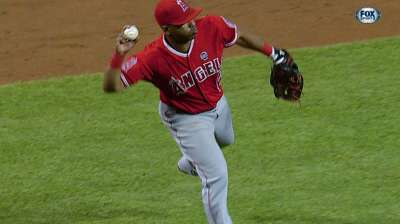 BOSTON - One step forward, one step back -- that's where the Angels are right now, while continuing to slog through the first half of their season.
They'll reel off 10 victories in a span of 12 games, then lose five of six to the lowly Astros and Cubs. And, as was the case after an entire day of baseball at Fenway Park, they'll win one game with good situational hitting, then lose another on account of bad starting pitching and key defensive miscues.
The Angels split their day-night doubleheader against the first-place Red Sox on Saturday, winning Game 1, 9-5, a few hours before dropping Game 2, 7-2, ultimately gaining only a half-game in an American League West they now trail by 10.
"It's disappointing," Angels starter C.J. Wilson said after putting his team in an early hole against a lights-out Clay Buchholz. "I felt like after winning the first game today, it would've been nice to get some momentum going. I just didn't get it going."
Like Tommy Hanson in Game 1, Wilson was only able to provide five innings against the team that leads the Majors in runs and OPS. Unlike Hanson, Wilson didn't leave with a lead. He gave up three runs in the first two innings, a stretch in which he used up 56 pitches, and made it really tough for an offense that had to battle against an undefeated pitcher who entered with a 1.62 ERA.
After drawing eight walks and cranking out 12 hits in the opener, the Angels' offense did very little against Buchholz, who gave up two runs in 6 2/3 innings before leaving with minor neck tightness.
At that point, just after a back-breaking homer from David Ortiz, the game was pretty much in hand.
"To limit that team to two runs is a pretty big feat, given all the names that are in that lineup," Buchholz said. "It was definitely a good day whenever you can split two games with those guys."
The Angels trailed 3-1 in the fifth, when Alberto Callaspo's throwing error put Mike Napoli on second and set the stage for David Ross to drop a two-out RBI single between Mike Trout, Brad Hawpe and Erick Aybar in shallow center field.
In the bottom of the sixth, after the Angels tacked on another run in the top half to make it 4-2, Jose Iglesias reached on an infield single, went to second when first baseman Mark Trumbo failed to catch Jerome Williams' pick-off throw, advanced to third on a passed ball and scored on Dustin Pedroia's two-out single.
The next batter, Ortiz, got an 0-1 cutter and turned it into a towering two-run homer to right field, giving him 12 on the year and putting his Red Sox (38-25) ahead by five.
"I wanted it to be more in," said Williams, who could still start Wednesday's game. "I thought it was in, but he got to it."
You figured it wasn't going to be the Angels' night, given how the Red Sox began the game: Shane Victorino line-drive single to left field, Jonny Gomes RBI double off the Green Monster, Pedroia RBI double down the right-field line.
"I guess they noticed that I didn't walk anybody the last couple games," Wilson said, "so they just came out swinging."
Wilson gave up another run in the second, on Ortiz's two-out RBI double. And though he settled down after that, retiring eight of his next nine hitters, he failed to pitch into the sixth for the second time in his last three outings, using 104 pitches to get 15 outs and putting his ERA at 4.02.
"I don't know if he ever got comfortable out there," Angels manager Mike Scioscia said. "He threw a lot of pitches to get through five innings. It was a struggle."
The Angels' loss snapped their franchise-record six-game winning streak at Fenway Park and a nine-game winning streak overall against the Red Sox, which was tied for the most in club history. Since reeling off eight consecutive wins from May 18-26, the Angels have lost eight of 12.
One step forward, one step back -- for a team that has a lot of ground to make up.
"We played good the first game and then just didn't do what we needed to do," Scioscia said. "You want to pour heart into every game, and when you don't win, you're disappointed."
Alden Gonzalez is a reporter for MLB.com. Read his blog, Gonzo and "The Show", and follow him on Twitter @Alden_Gonzalez. This story was not subject to the approval of Major League Baseball or its clubs.