Rookies shine, but Dodgers fall to Braves
Rookies shine, but Dodgers fall to Braves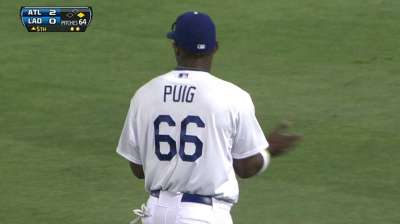 LOS ANGELES -- Greatness was saluted at sold-out Dodger Stadium Saturday night, but it was mostly about the past, as legends Sandy Koufax and Fernando Valenzuela headlined an Old-Timers' Game with the Yankees.
The current club, though, remained in last place with a 2-1 loss to the Braves that followed, wasting special performances from rookies Stephen Fife and Yasiel Puig, as well as veterans Skip Schumaker (14-game hitting streak) and Hanley Ramirez (RBI pinch-hit single).
Fife -- bidding for a rotation spot after injuries to Chad Billingsley, Josh Beckett and Ted Lilly -- struck out seven and walked one in a career-best 6 2/3 innings. He allowed home runs to Dan Uggla and opposing pitcher Kris Medlen in the fifth inning, but in two starts since returning from shoulder bursitis has allowed three runs in 12 innings.
"I just kind of started trying to do too much in terms of effort level and things went side to side instead of up and down," Fife said of his one rough inning. "I hung a breaking ball to Dan Uggla, but I can probably live with that one. I missed on a fastball to the pitcher, and that's one I'd like to have back. I'm kind of disappointed that's the deciding factor in the game. But that's the way it goes. It's baseball."
For Medlen (3-6, 2.87 ERA), who grew up in nearby Norwalk, it couldn't have been scripted better.
"For me to hit my first home run here -- it's kind of cloud nine," said Medlen. "I'm kind of speechless. I've had dreams of doing that for the Dodgers as an infielder, but I'll take it."
Cuban import Puig -- who never dreamt of playing for the Dodgers, let alone for $42 million -- went 2-for-4 and his legend grew a little more as the Braves tested his arm and learned that's about as dangerous as his bat.
Puig threw out Andrelton Simmons trying to go first to third on a single with a strike on the fly from right field to third baseman Luis Cruz, and the play wasn't even close. It was the second outfield assist in his debut week.
"I have to tell my friends to keep paying attention to him because this is something special," said Fife.
Puig then contributed to the lone Dodgers run with the infield single leading off the bottom of the eighth, and also contributed to manager Don Mattingly's graying head by crash-landing on a headfirst dive into first base.
Puig said he was uninjured and ready to play Sunday.
"That was a little dangerous," said Mattingly. "You know what? Guys like him play with that energy and it just comes out of them."
The energy continued on to second base with Puig, whose hard slide broke up a potential double-play bouncer by Nick Punto and forced a throwing error by shortstop Simmons to set up the run.
It scored only when Ramirez, held out for a third consecutive start because of a nagging left hamstring, came off the bench with a single through the legs of reliever Jordan Walden. The run was unearned.
Ramirez's hit both underscored how much the offense needs his productive bat and how fragile that hamstring must be, because Ramirez was quickly lifted for pinch-runner Clayton Kershaw. Yes, that Clayton Kershaw.
"I hope," said an unconvincing Mattingly when asked if Ramirez would start Sunday. "It will be a medical decision. When they tell you he can hit and they don't want him running, I'm not sure he can be running less than 24 hours later. He says he can run under control."
Mattingly agreed that putting his staff ace on the bases as the tying run is rolling the dice with his health, but with Ramirez hobbled and his bench lacking running speed, Mattingly took the calculated risk.
"Clayton's athletic, and we are not going to run him into a collision at the plate," he said. "Wally [third-base coach Tim Wallach] knows not to take a chance with him. I don't like using him. But I didn't want Hanley to run and I had to do that or I'll run out of players. It's the Tom Lasorda school of managing, to use your pitchers."
And they will learn more Sunday about the right ankle of Andre Ethier, who fouled a pitch off of it in a fourth inning strikeout and limped out of the clubhouse after the game.
While the Dodgers couldn't get to Medlen, Schumaker continued his streak and is batting .426 since May 17, raising his average from .183 to .280.
"I was so bad before, I just hoped to be the opposite the next month," said Schumaker. "I was hoping for a better May, and it happened and I'm hoping for a better June to be where I am career-wise."
Ken Gurnick is a reporter for MLB.com. This story was not subject to the approval of Major League Baseball or its clubs.