Gausman runs into trouble against Rays
Gausman runs into trouble against Rays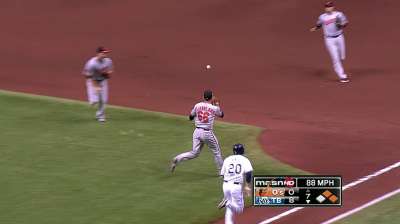 BALTIMORE -- One step forward, one step back.
A Baltimore club that's struggled again this season to get consistent starting pitching has had to deal head-on with the tricky -- and frustrating -- nature of a young rotation short on Major League experience. And nobody's resume is shorter than rookie Kevin Gausman, who, coming off a sparkling six-inning outing against Detroit, surrendered seven earned runs for the second time in three starts in the Orioles' 8-0 loss to the Rays on Saturday.
"Obviously, this hasn't gone the way that I would have hoped," said Gausman, last year's first-round Draft pick, who fell to 0-3 with an 8.84 ERA. "I wanted to come up here and hit the ground running and win my first four starts. But it hasn't been like that.
"I'm just trying to battle every day and trying to get back to what I've been doing. … These guys are pretty good, but there's definitely a learning curve there."
Gausman, who tied a season high in runs allowed, lasted 4 1/3 innings in his fourth big league start and the Rays made good use of his mistakes, teeing off on several offspeed pitches up in the zone. The Orioles could not do the same against Rays starter Jeremy Hellickson, as the 26-year-old right-hander -- tagged for a career-high eight earned runs in his last start against Baltimore -- worked his way through six scoreless innings Saturday en route to his fourth victory of the season.
The defeat, in front of a crowd of 21,834 at Tropicana Field, is the Orioles' fifth consecutive loss against a surging Tampa Bay team that has won 10 of its past 13. Baltimore (34-28) dropped to 2-3 on its two-city, six-game road trip and could not get the offense going for the second consecutive game.
"I just didn't really look at [Gausman's] outing like a struggle outing. I'm looking more at the one run in 18 innings," said Orioles manager Buck Showalter, whose club has technically gone 23 innings -- dating back to the series finale in Houston -- and scored just once.
"He made some really good pitches and had a couple balls fall in against him. Maybe I'm being too positive in some people's minds, but I'm OK with [Gausman] today. Just not much margin for error when you know you're not scoring runs. But I think he's got a chance to be a really good pitcher. We've just got to continue to help him tweak a few things, and he'll get it done."
Showalter's optimism was echoed in the other dugout as Rays manager Joe Maddon watched Gausman -- who had just eight starts at Double-A Bowie before being promoted -- strike out six and show flashes of dominance.
"He's got a great arm, not just a good arm, a great arm," Maddon said of the 22-year-old right-hander who was the fourth overall pick in last year's Draft. "Heads-up, this guy's going to be really good. He's got way plenty of fastball and the changeup, whatever that is, is outstanding, and he's got a good slider, too. This guy is as good as they think he is."
Gausman, who kept a lethal Tigers lineup in check Sunday, put his team in an immediate hole on Evan Longoria's two-out RBI single in the first inning. The Rays added two runs in the second on RBI singles by No. 9 batter Yunel Escobar and Ben Zobrist, who had three hits off Gausman -- including two doubles.
"Some of it is mental," Orioles pitching coach Rick Adair said of Gausman's adjustment to the big leagues. "And it's not only mental from the pitching standpoint, but the hitting standpoint. It's a little bit of a guessing game when guys don't know a guy and vice versa. He just made some mistakes up in the zone today. I don't think anybody really caught up to his fastball."
After the O's -- who finished with four hits for the game -- failed to capitalize in the top of the fifth, the Rays mounted a five-run fifth to chase Gausman from the game. After Zobrist delivered a leadoff double, Longoria walked one out later, setting up James Loney's RBI single. Gausman exited after issuing his third walk of the day to Desmond Jennings to load the bases and was charged with another three runs on Luke Scott's bases-clearing triple off reliever T.J. McFarland.
Asked what has been the hardest part about the transition to the big leagues, Gausman said it's the frustration.
"I feel like I'm throwing good pitches, and sometimes I get the outcome that I hoped, and sometimes I don't," he said. "A little frustrating, but I feel good ... mentally and physically, I feel good, and I feel like I have the stuff to be here. I just haven't produced."
Lately, neither has the offense. Coming off a night in which they were held to a season-low two hits off Rays rookie Chris Archer, the O's -- who entered the day leading the Majors in road batting average, slugging, OPS and homers per game -- were stymied by Hellickson.
"As the season progresses, you're going to have high and lows," Orioles first baseman Chris Davis said of the lineup. "Obviously, the offense isn't going to be able to continue to swing like we have all year. There are going to be times when we have to scratch out a few runs and try to win a close ballgame. It's a little bit different this time around. Obviously, they're throwing the ball well, and we need to take advantage of every guy we get in scoring position."
After stranding two baserunners in the first inning, Hellickson went on a run, retiring 10 in a row before Matt Wieters and J.J. Hardy started the fifth inning with back-to-back singles. But again, the O's came up short, with Chris Dickerson striking out and Ryan Flaherty nearly grounding into a double play. Leadoff man Nate McLouth flied out to end the threat, as the O's went 0-for-4 with runners in scoring position and didn't have another baserunner after Hardy's hit in the fifth.
"We'd like to have pushed something across there," Showalter said. "That was an opportunity. He's a good pitcher. He's one of those guys that you know what he's going to do. We see him enough, and they see us enough that there's not many secrets. And they continue to do it. Changeup's a big pitch for him, and it tells you how good it is when guys know the sequences and whatever and still have some trouble with it."
McFarland allowed one run over 2 2/3 innings after Gausman left, and reliever Pedro Strop, making his return from the disabled list, tossed a scoreless eighth.
Brittany Ghiroli is a reporter for MLB.com. Read her blog, Britt's Bird Watch, and follow her on Twitter @britt_ghiroli. This story was not subject to the approval of Major League Baseball or its clubs.