Ondrusek optioned; Partch recalled
Ondrusek optioned; Partch recalled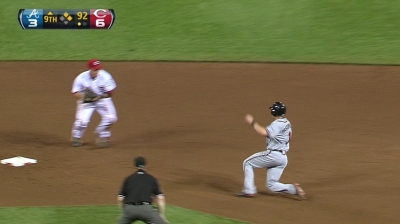 CINCINNATI -- Reds right-handed reliever Logan Ondrusek, who has an 8.71 ERA at home, was optioned to Triple-A Louisville on Saturday.
"Ondrusek was struggling at home," manager Dusty Baker said. "He's been pitching pretty good on the road [3.00 ERA], but let's try to figure out why he's having trouble at home. Hopefully he'll go down and get straightened out. Sometimes, you've got to make a move."
Ondrusek, 28, is 2-0 with a 5.64 ERA. He has allowed 21 hits -- including four home runs -- in 22 1/3 innings to go with eight walks and 18 strikeouts.
Ondrusek was replaced by right-hander Curtis Partch, who began the season in Double-A Pensacola before being called up to Louisville on April 24. He got another call on Saturday, this time at his Galt House Hotel at 10:30 a.m.
"The cleaning ladies call sometimes, because usually we just sleep past when they come to clean up," said Partch, who rooms with electrifying Reds prospect Billy Hamilton. "Usually, that's just all it is, so that's all I thought it was."
It wasn't.
Instead, it was Louisville manager Jim Riggleman.
"I thought I was in trouble or something," Partch said, laughing. "I was still half asleep when he told me."
Riggleman informed Partch that he had been called up to the big leagues and would be joining the Reds Saturday night.
"I was running around like a chicken with his head cut off trying to pack," said Partch, who called his father, Randy, in Merced, Calif., to tell him the news.
"That was pretty special," Partch said. "That was a cool moment."
Partch, 26, went 1-2 with a 3.74 ERA in 16 appearances for the Bats. He converted two of three save opportunities and allowed nine earned runs in 21 2/3 innings to go with 10 walks and 27 strikeouts.
"He was throwing well," Baker said. "He's getting all of his pitches over."
Said Partch, "I felt like I was pitching good, but I wasn't really expecting it, to tell you the truth."
Until Saturday, Partch had never been on the field, in the clubhouse or in the stands at Great American Ball Park.
Now that he has, he likes what he sees.
"I'm just going to try to stay here as long as I can," he said.
Tony Meale is a contributor to MLB.com. This story was not subject to the approval of Major League Baseball or its clubs.