Stingy Brewers 'pen keeps Phillies at bay
Stingy Brewers 'pen keeps Phillies at bay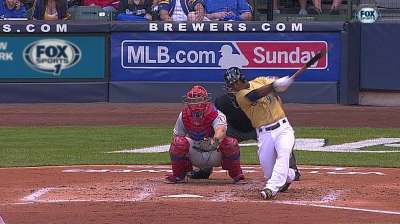 MILWAUKEE -- Baseball's most reliable relief corps was given a well-deserved Saturday night in the spotlight.
Five Brewers relievers kept the Phillies at bay, beginning with spot starter Tom Gorzelanny and ending with spot closer Francisco Rodriguez in a 4-3 win that gave Milwaukee back-to-back victories at home for the first time since the end of April.
"Pretty much all year they've been pretty solid," catcher Jonathan Lucroy said of the Brewers' bullpen arms. "It's kind of a bad thing, but they have been in games a lot more than they should here, lately. They've gotten a lot more exposure out there and showed how good they are."
Jean Segura homered in the third inning and Lucroy delivered a go-ahead double in the sixth, but this was a win for a bullpen that was broken down and rebuilt over the offseason by general manager Doug Melvin. Since April 12, covering 53 games, the Brewers' 2.46 ERA in relief leads the Major Leagues. They have been even better in the team's last 32 games, pitching to a 2.08 ERA.
It was all hands on deck Saturday because of Mike Fiers' demotion to Triple-A and Marco Estrada's subsequent trip to the disabled list, so the Brewers threw five relief pitchers at the Phillies including Gorzelanny, who kept things close for four innings. He was followed by top prospect Tyler Thornburg, who notched his first Major League win after two scoreless innings, John Axford, who pitched his 14th consecutive scoreless appearance, and Rodriguez, who logged his 298th career save.
Brandon Kintzler was the only pitcher following Gorzelanny to surrender a run as he was forced to pitch to scorching-hot Phillies left fielder Domonic Brown with two batters on base and two outs in the eighth inning because the Brewers' left-handed relief specialist, Michael Gonzalez, was unavailable after working three of the previous four days. Brown has been mashing against Brewers pitching this season, including his home run off Gorzelanny in the second inning, and touched Kintzler for a bloop, two-run double that cut the Brewers' lead to 4-3.
But Kintzler escaped further damage by retiring another dangerous lefty, Ryan Howard, to pass the lead to Rodriguez in the ninth.
When Rodriguez retired Ben Revere -- he of 1,269 Major League plate appearances and no home runs -- on a fly out to deep right-center field to end the game, Brewers manager Ron Roenicke breathed a sigh of relief.
"That bullpen, they keep pitching well," Roenicke said. "Hopefully, we'll go deep with Kyle [Lohse] tomorrow so we won't have to use some guys. Some guys are kind of used up."
Gorzelanny did Roenicke a big favor by gobbling up four innings. He retired the leadoff man in only one of those innings, but limited the damage to Brown's solo home run and four other, harmless hits, issuing no walks with three strikeouts while throwing 58 pitches.
"That's what happens when you have good starts, man," Lucroy said. "I just tried to go as far as I could," said Gorzleanny, who made only one start last season for the Nationals. "My mentality when I was out there was to try and make quick outs and pitch as deep as I could. To get four innings was good."
Thornburg was just as good, working two scoreless innings before he was lifted for a pinch-hitter amid a Brewers rally in the sixth. In the top half of that inning, with the teams still tied at 1, Thornburg found trouble when Kevin Frandsen led off with a double and Jimmy Rollins followed with a single, then scooted to second base when left fielder Ryan Braun lobbed his throw back to the infield.
But Thornburg was able to escape, striking out Delmon Young and then getting Brown and John Mayberry Jr. to ground into forceouts. The key play was Brown's grounder to new Brewers first baseman Juan Francisco, who threw home to retire Frandsen trying to score a go-ahead run.
Thornburg was rewarded with the customary cold water and baby powder shower, and a ticket back to Triple-A Nashville. The Brewers had to option him down to clear roster space for closer Jim Henderson's return from the disabled list on Sunday.
"[Thornburg] made some really good pitches," Roenicke said. "He had a great fastball today, threw some outstanding curveballs. It's something that should give him confidence when he goes down. To get big league hitters out and get out of jams like he did -- there's no reason he can't do that in Triple-A."
Said Thornburg: "I knew a move had to be made, and especially with those off-days coming up, you don't really need a long guy in there. I'm happy to get my first win; I'm not happy to go down."
Braun redeemed himself by hustling for an infield single leading off the bottom of the sixth, one of his three hits in the game and the first of four consecutive hits off Phillies starter Kyle Kendrick in that inning. Lucroy's double made it 2-1, and Carlos Gomez added an RBI single for insurance.
The Brewers extended the lead to 4-1 in the seventh on Braun's run-scoring single, a key piece of insurance considering the Phillies rally against Kintzler in the eighth.
Kendrick, who missed the Brewers last weekend in Philadelphia, took the loss after allowing three runs on eight hits in six innings.
"We've won two in a row, and hopefully we can win out [Sunday] and take it to Miami," Lucroy said.
Adam McCalvy is a reporter for MLB.com. Read his blog, Brew Beat, and follow him on Twitter at @AdamMcCalvy. This story was not subject to the approval of Major League Baseball or its clubs.