Danks retires final 21 in a row in win vs. A's
Danks retires final 21 in a row in win vs. A's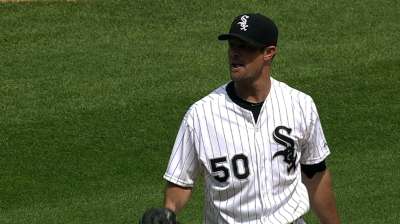 CHICAGO -- John Danks simply wants to be looked at like any other member of the White Sox starting rotation.
He wants manager Robin Ventura to trust him with somewhere around 115 to 120 pitches in each start, and he doesn't want to be known as the 28-year-old hurler battling his way back from season-ending arthroscopic shoulder surgery last Aug. 6.
Saturday's 4-1 White Sox victory over Oakland before 23,735 at U.S. Cellular Field will go a long way in making that dream become a reality for the veteran southpaw.
Danks (1-2) earned high marks from Ventura and pitching coach Don Cooper after allowing three earned runs on seven hits over six innings Monday in a loss at Seattle. That outing was just the appetizer for the weekend main course, which resulted in Danks' first win at U.S. Cellular since Sept. 24, 2011, against the Royals.
Three of the first four hitters for Oakland (38-26) actually reached safely, with Josh Donaldson's single scoring the A's lone run. Twenty-two of the next 23 were retired by Danks, including the final 21 he faced. It was an extremely impressive performance even without the context of how raw Danks looked on the back fields of Camelback Ranch during Spring Training and the immense progress he has made over the past four months.
"It's night and day, it's not even close," said Danks, who struck out six and walked one over eight innings and 96 pitches. "Obviously, Spring Training was tough. I battled through a lot in spring, and just like they told me -- the more time and the more strengthening I get, the better I'll be."
Mixing in "more curves than I've thrown my entire career" to get hitters off of his fastball and changeup, according to Danks, the A's didn't reach base after Nate Freiman's leadoff single in the second. This afternoon dominance, though, was destined for a no-decision if not for a three-run White Sox rally in the eighth inning against Oakland reliever Sean Doolittle (3-1).
"You don't want to waste an outing like that by one of your starters," said White Sox captain Paul Konerko of Danks. "We've had a lot of those this year where we couldn't get our starter a win, and with John, you come back off the injury and all that. It's something a little more special."
Alejandro De Aza opened the frame with an infield single, and Alexei Ramirez laid down a perfect sacrifice bunt to get De Aza to second. Alex Rios followed with a run-scoring single to right to break the deadlock.
"That's something you have to do to win games," said Ventura of the eighth-inning execution. "It's nice when you do that and the guy behind you comes in with a hit."
Konerko launched the next pitch from Doolittle for a two-run homer to left. It was his 428th career home run, 421st as a member of the White Sox (26-34) and 18th all-time against the A's.
"I went back and looked at the film, the ball Rios hit was up and away, and that's a ball a lot of guys pop up or foul off or swing through," Doolittle said. "The ball Konerko hit was pretty much off his shoe tops.
"So it's kind of just like, today, they just beat me. I have to tip my cap to them and just take it."
Before Doolittle's entrance, Tommy Milone didn't give up much more than Danks against the White Sox offense.
Adam Dunn's solo blast leading off the second, covering 429 feet to center, accounted for the only White Sox run against the Oakland starter over seven innings and 118 pitches. He fanned seven and walked one.
On this early evening in Chicago, the White Sox offense didn't let Danks' mound gem go unrewarded.
"Man, we know these guys are capable of putting up crooked numbers every inning," said Danks of the beleaguered White Sox offense. "We hear what people say about them outside the field, but when they get here, as a pitching staff we have full trust in those guys. We know they're capable of busting the game wide open. We were excited to see that."
This victory marks just the second in 12 games for the White Sox, who lost the first two games of this four-game series, and stands as their first against Oakland in six tries during the 2013 campaign. One impressive effort doesn't make for a turnaround, but a veteran such as Konerko also understands that for the White Sox to have any shot at making up eight games and getting back into the American League Central race, it's going to be a gradual climb.
"We've dug ourselves a hole. It has been a tough go here early," Konerko said. "I'm not going to sit here and say we are the '27 Yankees, but we are a lot better than what we have shown. I think the main thing is trying to get to that level.
"Try to sustain it for a little bit. See where we are at then and see how that unfolds with the rest of the division and all that. That's the main thing, just look inward and try to get better here as a player and as a team, and let's do that for a month and see where we are at and see how we roll with that. We haven't come close to that yet."
Scott Merkin is a reporter for MLB.com. Read his blog, Merk's Works, and follow him on Twitter @scottmerkin. This story was not subject to the approval of Major League Baseball or its clubs.