Close call denies Cards' ninth-inning rally
Close call denies Cards' ninth-inning rally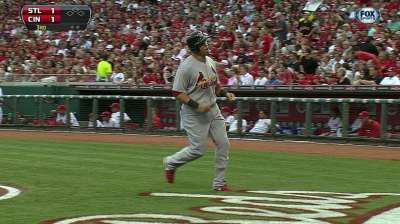 CINCINNATI -- The outcome may well have remained as is, a 4-2 Reds victory over the Cardinals in front of a sellout crowd at Great American Ball Park on Saturday. But Matt Holliday should first have had his say.
Holliday was left standing in the on-deck circle, his opportunity to come to bat with the bases loaded against flamethrower Aroldis Chapman thwarted by an game-ending out call that replays later confirmed never should have been made by first-base umpire Phil Cuzzi.
With the potential tying runs aboard, Carlos Beltran sent a sharp liner to third baseman Todd Frazier, whose throw across the diamond drew first baseman Joey Votto off the bag. Only, Cuzzi didn't see it as such. He pointed at Votto's foot, implying that it stayed on the base, and called Beltran out.
Cardinals first-base coach Chris Maloney immediately contested the call. Manager Mike Matheny sprinted from the dugout to voice his displeasure as the Reds began their on-field celebration.
"I can see it from the dugout," Matheny said. "I can't believe the home-plate umpire didn't see. Actually, the second-base umpire should have seen it from the angle we had from the camera."
Shadowing Cuzzi as he walked toward the tunnel, Matheny asked him to seek a second opinion from someone else on the crew. Cuzzi didn't, eventually disappearing off the field.
"He was off the bag," Beltran said. "But I guess the position that he [the umpire] had, he just didn't see it. He made the decision based on the ball getting there before me."
Matheny, too, took exception with the umpire's seemingly less-than-ideal position to get a clear read on when Votto's foot left the bag.
"He was trying to get around to it to see it," Matheny said. "I can't tell exactly where he was, and I don't know exactly what the perfect umpire's position is anyhow, but it looked obvious from the dugout."
The call sealed the win for the Reds, who had earlier capitalized on a few elevated fastballs from Tyler Lyons to push in front. On the other end, Mat Latos, who has been a kryptonite of sorts against St. Louis, helped keep the season series from becoming even more lopsided.
Though the Cardinals own a 5-3 advantage against the Reds this year, the three losses have come in games started by Latos. He didn't factor into the decision when he started at Busch Stadium on April 8, but he has since reeled off a pair of quality-start victories against the Cardinals. The right-hander's record sits at 6-0 on the season and he hasn't lost in his last 20 regular-season starts.
"That's a great lineup," Latos said. "They used to kick the crap out of me pretty good, but this year I've adjusted to them."
He's done that largely by pitching differently against them each time. In doing so, he's kept the Cardinals' offense from finding some semblance of predictability.
The Cardinals were able to pepper Latos for eight hits in seven innings, but could string few together. Yadier Molina doubled and scored on a pair of productive outs in the second. An inning later, Allen Craig pushed the Cardinals in front, 2-1, when he singled home Holliday.
St. Louis wouldn't advance another runner into scoring position until the ninth.
"We took little chips and had some pretty good at-bats, but it wasn't one of those situations where we had overwhelming opportunities and things we left on the table," Matheny said. "But I thought we had a pretty good approach against him."
Lyons served up a pair of solo homers to Jay Bruce and Devin Mesoraco, the second of which evened the game at 2-2 in the fifth. Lyons, who entered the night 2-0 in his previous two road starts, fell into more trouble in the sixth. The Reds opened the inning with consecutive doubles, and before reliever Seth Maness could close the inning with a double play, they padded the lead with a bases-loaded single from Mesoraco.
All four runs were charged to Lyons, who has given up eight in 11 2/3 innings since jumpstarting his big league career with a pair of seven-inning, one-run outings.
"I thought for the most part, I threw the ball pretty well," Lyons said. "But the mistakes that I made were obvious. They turned what could be a good outing into a subpar outing really fast."
Whether or not Lyons has earned himself a longer stay in the Cardinals' rotation is a question the Cardinals will be answering in the coming days. With Jake Westbrook nearing a return, St. Louis will have to unplug someone currently in the rotation.
The Cardinals' attempts to scratch away at the lead were halted by some terrific defensive plays by the Reds' outfielders. Shin-Soo Choo and Bruce took away extra-base hits with consecutive highlight catches in the sixth. In the eighth, Bruce tracked Holliday's deep fly ball and made a leaping catch at the wall in right field.
The Cardinals' rookie relievers, however, also did their part in keeping the game get further out of hand. After Maness escaped additional trouble in the sixth, Kevin Siegrist and Keith Butler shut down Cincinnati. Siegrist struck out Votto and then Bruce, with the bases full in the seventh. Keith Butler pitched a 1-2-3 eighth that featured a pair of strikeouts, as well.
"They've got five or six guys that can reach the fence at any time," Reds manager Dusty Baker said. "You really want to add on as many runs as you should, especially easy runs. I'm just glad we won. I'm glad it didn't come back to haunt us."
Despite the run-production difficulties, the Cardinals did have four players advance personal hitting streaks of at least nine games. By the fourth inning, Matt Carpenter (17 games), Beltran (nine games), Craig (12 games) and Freese (18 games) had already extended their streaks. All eight starting position players finished with a hit.
Jenifer Langosch is a reporter for MLB.com. Read her blog, By Gosh, It's Langosch, and follow her on Twitter @LangoschMLB. This story was not subject to the approval of Major League Baseball or its clubs.