White Sox host Boston Marathon victim Rand
White Sox host Boston Marathon victim Rand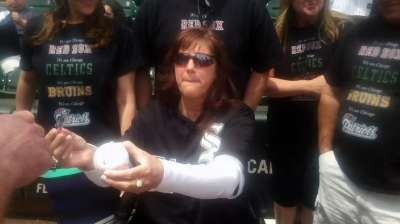 CHICAGO -- When Karen Rand met with President Barack Obama while hospitalized after surviving the April 15 Boston Marathon bombings, she casually mentioned a trip to Chicago she was taking with her boyfriend this summer.
Obama told Rand that when they were in Chicago, he wanted to make sure she had a really nice trip. But Rand never expected the first-class treatment she received Saturday afternoon at U.S. Cellular Field, including throwing out one of the ceremonial first pitches to Chris Sale and receiving a standing ovation from the crowd, followed by a playing of "Sweet Caroline."
"I thought we'd be in the box and maybe people would wave. I didn't know what to expect, but not this," Rand said. "This is amazing. It's being treated like royalty and we're really just humble, simple people, so it's really nice for us to be out here. We're really enjoying it."
Rand lost her lower left leg and her close friend, Krystle Campbell, as they waited for Rand's boyfriend, Kevin McWatters, to finish the Marathon. Rand was physically harmed, but her positive spirit clearly has persevered.
She smiled and talked with players and members of the White Sox organization, taking pictures on the field with her friends before the game. Being Boston natives, though, their excitement level jumped when one-time Red Sox and current A's outfielder Coco Crisp came over to chat during batting practice.
After meeting with Obama, Rand was put in touch with the office of Chicago Mayor Rahm Emanuel. The office then set up Saturday's special day with the White Sox.
"It's so nice. It was nice all the support I had and that the President was one of the first people to come in and see me," Rand said. "Since then it's been really great, checking in on us and making sure that while we were out here we would have a good time.
"Truthfully, I have been really, really excited to come to Chicago, and we planned this trip before this happened. I was bound and determined that no matter what I was still coming, so I'm so happy we're here today. It's so nice."
Scott Merkin is a reporter for MLB.com. Read his blog, Merk's Works, and follow him on Twitter @scottmerkin. This story was not subject to the approval of Major League Baseball or its clubs.