Trout looking to reel in All-Star Game start
Trout looking to reel in All-Star Game start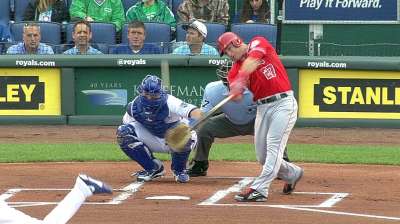 BOSTON -- Mike Trout is still on pace to become the first Angels position player to start the All-Star Game since 2007, when Vladimir Guerrero capped a run of four straight appearances in the American League lineup, but he'll need some help if he wants to regain his lead in the outfield.
Trout trailed Orioles center fielder Adam Jones by just under 5,000 votes when the second AL ballot update was released on Saturday, dropping him to second at his position.
Trout, currently with 1,939,486 votes, led outfielders and ranked third overall as of last week. Now, he's fourth in the AL, also trailing Tigers third baseman Miguel Cabrera (2,355,128) and O's first baseman Chris Davis (2,084,274).
An ailing Albert Pujols still ranks fourth among first basemen and has a long way to go, with 531,138 votes, while the slumping Josh Hamilton (564,417) has dropped to 12th among outfielders -- 503,556 behind the third-place Torii Hunter, formerly of the Angels and now with the Tigers.
Mark Trumbo has dropped from fourth to fifth among designated hitters, his 551,942 votes about 1.2 million shy of the first-place David Ortiz.
Fans can cast their votes for starters at MLB.com and all 30 club sites -- online or via a mobile device -- using the 2013 All-Star Game MLB.com Ballot until Thursday, July 4, at 10:59 p.m. CT.
Fans may submit 25 online ballots during the voting period but can also earn a one-time bonus of 10 additional online ballots. To access these additional online ballots, fans must be logged into an MLB.com account when submitting any online ballot. To obtain an MLB.com account, visit www.mlb.com and register in accordance with the enrollment instructions for a free MLB.com account.
Fans can also once again participate in the Home Run Derby Fan Poll. Fans will have the opportunity to select three players in each league whom they would most like to see participate in the Home Run Derby. The 2013 Home Run Derby -- part of Gatorade All-Star Workout Day -- will be broadcast live on ESPN, ESPN HD, ESPN Deportes and ESPN Radio in the United States beginning at 7 p.m. CT on Monday, July 15.
The 2013 AL and National League All-Star teams will be unveiled on Sunday, July 7, on the 2013 MLB All-Star Game Selection Show, televised nationally on TBS. Baseball fans around the world will then be able to select the final player on each team via the All-Star Game Final Vote sponsored by freecreditscore.com on MLB.com.
And the voting doesn't end there. The final phase of All-Star Game voting will again have fans participating in the official voting for the Ted Williams All-Star Game Most Valuable Player Award presented by Chevrolet. During the Midsummer Classic, fans will vote exclusively online at MLB.com via the 2013 All-Star Game MLB.com MVP Vote, and their voice will represent 20 percent of the official vote determining the recipient of the Arch Ward Trophy.
The 2013 All-Star Game will be played at Citi Field on Tuesday, July 16. MLB.com will have extensive online coverage of the All-Star Week festivities.
The 84th All-Star Game will be televised nationally by FOX Sports, in Canada by Rogers Sportsnet and RDS, and worldwide by partners in more than 200 countries via MLB International's independent feed. ESPN Radio and ESPN Radio Deportes will provide national radio coverage of the All-Star Game. MLB Network and SiriusXM also will also provide comprehensive All-Star Week coverage. For more information, please visit allstargame.com.
AMERICAN LEAGUE ALL-STAR VOTING
(as of June 8)
CATCHER
Joe Mauer, Twins: 1,492,396
Matt Wieters, Orioles: 1,153,795
Carlos Santana, Indians: 723,119
A.J. Pierzynski, Rangers: 697,403
Jarrod Saltalamacchia, Red Sox: 509,712
FIRST BASE
Chris Davis, Orioles: 2,084,274
Prince Fielder, Tigers: 1,469,537
Mike Napoli, Red Sox: 552,845
Albert Pujols, Angels: 531,138
Mitch Moreland, Rangers: 513,722
SECOND BASE
Robinson Cano, Yankees: 1,851,371
Dustin Pedroia, Red Sox: 1,106,949
Ian Kinsler, Rangers: 900,950
Omar Infante, Tigers: 621,202
Jose Altuve, Astros: 488,466
THIRD BASE
Miguel Cabrera, Tigers: 2,355,128
Manny Machado, Orioles: 1,170,108
Adrian Beltre, Rangers: 845,540
Evan Longoria, Rays: 657,056
Josh Donaldson, Athletics: 355,693
SHORTSTOP
J.J. Hardy, Orioles: 1,231,843
Elvis Andrus, Rangers: 1,045,885
Jhonny Peralta, Tigers: 915,400
Jed Lowrie, Athletics: 803,972
Derek Jeter, Yankees: 529,234
DESIGNATED HITTER
David Ortiz, Red Sox: 1,716,410
Lance Berkman, Rangers: 957,618
Mark Reynolds, Indians: 622,977
Edwin Encarnacion, Blue Jays: 554,337
Mark Trumbo, Angels: 551,942
OUTFIELD
Adam Jones, Orioles 1,944,450
Mike Trout, Angels 1,939,486
Torii Hunter, Tigers 1,067,973
Nick Markakis, Orioles 1,030,653
Jose Bautista, Blue Jays 1,021,813
Nelson Cruz, Rangers 1,011,198
Nate McLouth, Orioles 918,359
Alex Gordon, Royals 789,488
Jacoby Ellsbury, Red Sox 714,716
Yoenis Cespedes, Athletics 652,702
Coco Crisp, Athletics 643,532
Josh Hamilton, Angels 564,417
Austin Jackson, Tigers 538,178
Shane Victorino, Red Sox 499,413
Ichiro Suzuki, Yankees 477,870
Alden Gonzalez is a reporter for MLB.com. Read his blog, Gonzo and "The Show", and follow him on Twitter @Alden_Gonzalez. This story was not subject to the approval of Major League Baseball or its clubs.