Mets unable to outlast Marlins in marathon affair
Mets unable to outlast Marlins in marathon affair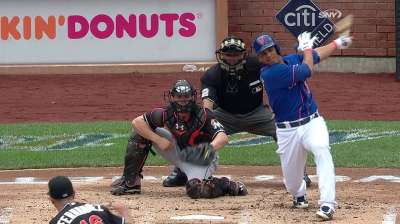 NEW YORK -- Clever gallows humor that is not foreign to any big league clubhouse could gain no access to the Mets' Saturday night. In the aftermath of a protracted afternoon-into-evening engagement and a most vexing defeat, the team's post-game faces were somber and ugly. Facial expressions were twisted as though the players were reliving that which never should have been endured in the first place. Humor was in shorter supply than offense had been.
David Wright, Justin Turner and John Buck had hit, Shaun Marcum and Matt Harvey had pitched and Daniel Murphy had played his position, second base, and the one -- right field -- Rick Ankiel seemed unwilling to cover. And Ike Davis, who played first base for merely eight innings, had spent the remainder of his afternoon "praying that we'd win."
And none of it produced the desire result. Instead, the Mets suffered a preposterous loss. They played 20 innings against the team with the worst record in the game, the lowest batting average in the league and a generous-to-a-fault pitching staff. The result -- a 2-1 win for the Marlins -- and the roads that led to it only established a link between these stumbling Mets and their bumbling ancestors of 1964.
That team that would lose 112 times prompted its manager Casey Stengel to speak a phrase that should be recalled every time a team plays more than 18 innings and fails: "It wasn't good, but at least it was long."
Casey smirked when he offered that critique following a 1-0, 24-inning loss in Houston. Not these pained Mets, however; not after 19 fruitless at-bats with runners in scoring position, a franchise record, not after leaving 22 runners on base -- 12 after the ninth, not after losing to the Marlins for the seventh time in 10 games. The Marlins have merely 10 other victories in 51 other games, for goodness sake.
Totals for Mets Game No. 56: One run, 13 hits, no errors, enough zeroes to make Walter Johnson envious and nary a smirk. To be sure, they had played long ball with the Marlins, not that either team hit any. The Marlins' 15 hits were singles, exclusively. The Mets had two extra-base hits.
The warning track went virtually unused by the outfielders, except for two fly balls struck by Wright. "Eleven hundred feet of outs," was one of his laments. "Horrible" was his one-word assessment of the entire day.
No silver lining even though Marcum provided eight innings of nearly shutdown pitching.
Teams have lost in worse ways and found humor. The Royals lost an extra-inning game in Kansas City some years ago, repeatedly failing to deliver a needed hit. Afterwards, quirky reliever Dan Quisenberry urged a reporter to type his account of the game without using a shift key.
"We didn't capitalize on our chances," he said.
Terry Collins' beaten and battered bunch wasn't nearly so clever in its postmortems Saturday, though one member did characterize reliever Robert Carson as "our lucky man." Other than starting pitchers -- and two of the five, Harvey and Marcum, pitched seven and eight innings respectively -- Carson was the only Mets player who didn't participate in this six-hour 25-minute extravaganza.
Collins himself said he planned to "have a glass and wine and stew a while" after this one.
"This game can be so cruel," Wright said, reprising words he has worn out in barely more than a third of a season.
Diluting the darkness was left to folks outside the clubhouse and within the pressbox.
Harvey, still unbeaten, believe it or not, had pitched seven innings before stiffness in his lower back (right side) prompted his departure. The cause-and-effect one-liner was "That's what happens when one man carries the team."
He was removed at 3:20 p.m. ET. One wise guy surmised the Mets' prize pitcher already had healed and completed his rehab well before the final play at 7:37. Another pressbox citizen tried to ease the mind of the newest Met, reliever David Aardsma, who pitched one inning hours after joining the team.
"They don't usually play 20," he said.
And another writer, quite aware of the Marlins' relative anonymity, said, in the course of 20 innings, he had become completely familiar with their entire roster.
The names inflicted the most pain on the Mets were Placido Polanco, Rob Brantly and the renowned Adeiny Hechavarria. Their successive one-out singles against Marcum (0-7) put the Marlins in position to end what became the longest -- in innings -- big league game since the Mets defeated the Cardinals, 2-1, in 20 innings in St. Louis back on April 17, 2010, the second 20-inning engagement in the history of the franchise, the longest game in the four-year-plus history of Citi Field, the equals of the fourth longest Mets ever and the longest Marlins game ever.
Hours earlier, Harvey had walked from the mound to the dugout and into the clubhouse after speaking with Collins and assistant trainer Brian Chicklo following his warmup up for the eighth. He had allowed six hits and no walks and struck out six. But another no-decision -- his eighth in nine starts -- was in the offing.
He'd been pleased with neither the Marlins nor himself following his start in Miami on Sunday. So he was more equipped than usual. But at the same time, he was, for the first time in his career, facing the same opponent in successive starts. Indeed, the start Saturday was Harvey's third against the Marlins in a 41-day sequence.
Familiarity can breed trouble, but Harvey retired 10 of his first 11 batters. But successive singles by Derek Dietrich and Marcell Ozuna and a sacrifice fly by Chris Coghlan tied the score in fourth.
The Mets had afforded him a 1-0 lead in the second inning when Davis led off with a walk. After Buck popped out, Juan Lagares doubled left center. His hit didn't reached the warning track, but a sloppy relay by shortstop Hechavarria allowed Davis to score.
The rest was mostly zeroes heaped upon other zeroes. No one suggested that the 15 scoreless innings that separated the game's second and third runs were examples of good pitching offsetting good hitting. After all, had the Mets won, beating winner Kevin Slowey for Marcum, the records for the pitchers of record would have matched at 1-6.
Ankiel again appeared disinterested in defense, causing Murphy to show off his range. He was designated for assignment after the game, though Collins indicated the club considered his offense lacking. Ankiel's final four at-bats with the Mets produced a a foul pop and three strikeouts.
It was suggested, though, that the Marlins' victory was a demonstration of survival. Of the fittest? Or the least unfit?
Marty Noble is a reporter for MLB.com. This story was not subject to the approval of Major League Baseball or its clubs.