Harvey exits early with lower back tightness
Harvey exits early with lower back tightness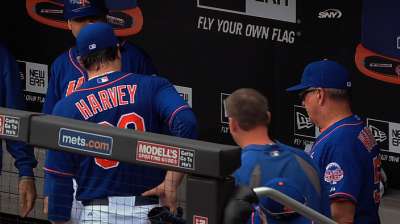 NEW YORK -- When Matt Harvey finished up his seventh inning, he felt some tightness in the right side of his lower back. When he went out to hit in the bottom of the frame, he thought it would loosen itself back up -- he even singled during his at-bat.
When he came out to warm up for the eighth, a crowd gathered around the starting pitcher. Manager Terry Collins was there. So was trainer Brian Chicklo. Moments later, Harvey walked to the dugout. His day was done because of lower back tightness.
"I was fine to pitch," Harvey said after the game. "I could've obviously stayed out there, but obviously risking more injury would be not good."
Harvey earned another no-decision, but his seven innings of one-run, six-strikeout ball further bolstered his already stellar Cy Young-worthy resume. He entered with just a 4.25 ERA against the Marlins, but until exiting an eventual 2-1, 20-inning loss, Harvey was spectacular.
He said he's fine to make his next start, whether it is on Thursday or Friday.
"I think the sixth and seventh were my best two innings, and it's frustrating coming out of the game when you're finding your rhythm," Harvey said.
He'd experienced a similar injury a handful of times in college, and on Saturday the training staff found a way to help it right away. He wasn't sure how to describe the procedure used, but the chiropractic method realigned his hips and had him feeling fine even before the marathon game ended.
Next time it could be something used between innings, he said, so that he can stay out on the field.
But once Harvey alerted Terry Collins, the manager knew it wasn't worth taking the risk of leaving his ace out on the mound. Harvey usually has no problem pitching through adversity, so when he told Collins of the tightness it meant that it was something to note.
"My goodness gracious," Collins said, "if there's anyone that we don't need hurt it's Matt Harvey."
David Wilson is an associate reporter for MLB.com. This story was not subject to the approval of Major League Baseball or its clubs.