Hawpe back in big leagues after two-year hiatus
Hawpe back in big leagues after two-year hiatus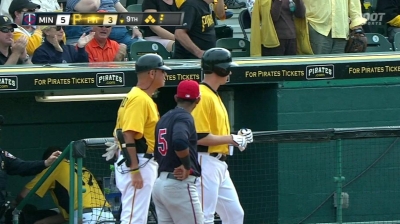 BOSTON -- There was a time last summer, while rehabbing from Tommy John surgery and spending extended time with his two young children in Fort Worth, Texas, when 33-year-old Brad Hawpe thought perhaps his days in the big leagues might be over.
"I was OK with it," Hawpe said. "I've had a bunch of good memories in this game. I've been very fortunate and blessed. It doesn't mean I wouldn't like to make some more memories, but I've been very blessed, and if that was the end of it, I was OK with it."
It turns out it wasn't the end.
Hawpe was back in the big leagues on Saturday, called up from Triple-A Salt Lake to trade places with reliever Dane De La Rosa because the Angels wanted to go back to 13 position players and because Hawpe proved himself worthy. He hit .305 with six homers and 28 RBIs in 37 games in the Pacific Coast League.
Hawpe, a left-handed hitter who can play both corner outfield corners and first base, batted .288 while averaging 25 homers and 93 RBIs with the Rockies from 2006-09. He then struggled the next two years, batting .239 in 165 games with three different teams, had Tommy John surgery in the fall of 2011, tried to come back with the Rangers' Double-A affiliate, then realized he needed to take the rest of the summer off to get right.
Hawpe entered spring on a Minor League contract with the Pirates, got just five hits in 36 at-bats and was granted his unconditional release on March 23. Shortly after that, he had lunch with ex-Rockies teammate Chris Iannetta -- who told him about how much he could potentially help the Angels.
"And then Jerry called," Hawpe said of general manager Jerry Dipoto, who signed him to a Minor League deal in early April. "I thought about it for a little bit and said, 'You know what, I'm not done. I know that I still got it. I don't want to go out just because I had surgery. I'd like to give it a shot.' I went out, and gave it everything I had."
Alden Gonzalez is a reporter for MLB.com. Read his blog, Gonzo and "The Show", and follow him on Twitter @Alden_Gonzalez. This story was not subject to the approval of Major League Baseball or its clubs.