Davis' walk-off single gives Blue Jays marathon win
Davis' walk-off single gives Blue Jays marathon win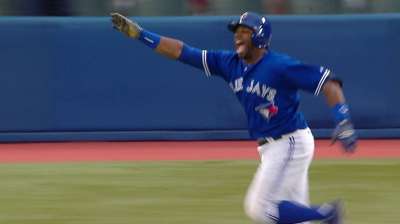 TORONTO -- Recently back from the disabled list, Rajai Davis came into Saturday's contest in the eighth inning, and still managed to log an entire game.
After nine extra innings in a scoring gridlock, Davis' single down the left-field line drove in Emilio Bonifacio, and sent the Blue Jays to a 4-3 walk-off win over the Rangers on Saturday at Rogers Centre.
Describing what he was thinking when he saw his ground ball slip by Leury Garcia in the 18th inning, he whistled: "Relief. A lot of relief."
Toronto's victory secured the series win and tied for the longest game in franchise history, matching a July 28, 2005, win against the Los Angeles Angels. John Gibbons was at the helm for the Blue Jays for both contests.
Casey Janssen's struggles in the ninth left the near-flawless Mark Buehrle with a no-decision in the historically long contest. Entering the game with 18 straight saves, the closer allowed a walk and two singles to the Rangers, and Elvis Andrus brought in the tying run with a sacrifice fly.
"I just didn't execute very well, as a whole. The two pitches that they hit were probably two of my better-executed pitches," the closer said. "It just wasn't good. It wasn't sharp. It was one of those days where the quality pitches that I did make kind of fell in and cost me."
The Blue Jays' bullpen had allowed one earned run over 30 1/3 innings until the tallies against Janssen in the ninth, and the strong relief corps kept the Rangers scoreless through nine additional innings of work.
"I put [us] into [those] 18 innings," Janssen said. "I wish it could have been done after nine. But the bullpen pitched great. ... The bright spot was we were able to throw up those zeros."
Right-hander Brad Lincoln made an impressive case in relief, despite hitting two batters. He gave up one hit over four innings and struck out three. Immediately after the game, the club announced that the 28-year-old was optioned to Triple-A Buffalo.
"That's one of the [rotten] parts of the game; a guy goes out there, pitches all those innings, give you a chance to win," Gibbons said. His bullpen has had a heavy workload, adding that it was the second 17-plus inning contest for the team in the last eight days.
"These guys know what happens, it's been going on all year," said Gibbons. "... They know that we have a merry-go-round coming from Buffalo, but you've got to do it."
Toronto reached .500 at home for the first time in 2013, while Buehrle (2-4, 5.06 ERA) continued to inch closer to the stat lines that have made him lethal to opposing batters for much of his career.
The soft-tossing lefty worked seven innings, throwing 57 of his 92 pitches for strikes. He struck out three, and handed out two walks. Buehrle's biggest blemish was a seventh-inning home run to Jeff Baker, the first long ball he's given up in six games.
In his continued 2013 renaissance for Toronto, Adam Lind went 4-for-7 with a walk and two strikeouts, marking his ninth multi-hit game in the last 13. During that time, the designated hitter is 27-for-55 (.491).
"It's hard to point to exactly what it is. Some of it's luck, using the whole field, not giving them scouting reports where I've been hitting the ball on a consistent basis," Lind said, sounding modest about his skyrocketing numbers. "I've hit the ball all over the field this year, and it's keeping the coaches who do the spray charts on their toes."
Beyond Lind's contributions, the Blue Jays were mostly puzzled by Rangers starter Yu Darvish's repertoire. The sophomore pitcher (7-2, 2.75 ERA) struck out seven, allowing two earned runs on five hits, and walking three.
The home team's bullpen was matched by an equally efficient Texas relief squad. Ross Wolf threw a career-high 6 2/3 innings, but allowed Bonifacio to reach in the 18th on a single. With two outs and Davis at the plate, Wolf attempted a pickoff, but his throwing error allowed Bonifacio to advance to third. The speedy second baseman crossed the plate on Davis' single. The sole run from Wolf was unearned.
"We needed one big hit and we just couldn't get it," Rangers manager Ron Washington said. "But I'm very proud of the job Wolf did."
After Dustin McGowan loaded the bases in the 10th (in his first appearance on a Major League mound since Sept. 26, 2011), Jose Bautista's perfect throw to the plate to nail Lance Berkman shut down Texas' threat to take the lead.
Steph Rogers is a contributor to MLB.com. This story was not subject to the approval of Major League Baseball or its clubs.