Ferocity on mound one of Driver's strengths
Ferocity on mound one of Driver's strengths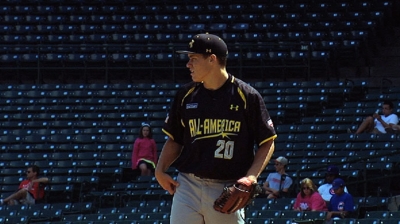 It's always interesting to see what talent comes out of the Pacific Northwest, and Dustin Driver has the chance to be one of the best from the region this year.
Oakland drafted the high schooler from Washington in the seventh round for their last non-collegiate of the day.
Driver has some good stuff, with a fastball that's already touching 93-94 mph and a power breaking ball to go along with it. He threw very well at the Area Code Games, showing a good feel for mixing his fastball, breaking stuff and even a changeup.
Kubota compared Driver to Jeremy Bonderman, who spent eight seasons with the Tigers before joining the Mariners for the 2013 season.
And while some feel he may be a reliever when all is said and done, there's plenty to like about this young right arm. As good as his raw stuff is, he gets equally strong, if not better, marks for his mound presence, instincts and competitiveness, all of which add up to a very bright future.
As to questions of Driver's signability, Kubota said the A's feel strongly that they'll be able to get him under contract.
"There's a lot of work that goes into determining signability, and at this point we feel confident that we can get him signed," he said.
Jeff Kirshman is an associate reporter for MLB.com. This story was not subject to the approval of Major League Baseball or its clubs.