Wright eyes boost to overtake Panda in voting
Wright eyes boost to overtake Panda in voting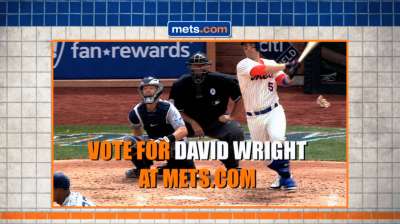 While David Wright dropped further behind San Francisco's Pablo Sandoval in the race to start at third base in this year's All-Star Game at Citi Field, Mets second baseman Daniel Murphy jumped into the top five at his position in the second update of National League balloting, which Major League Baseball released Sunday night.
Catcher John Buck remained third in the voting, behind the Giants' Buster Posey and the Cardinals' Yadier Molina.
As for the battle at third base, Sandoval widened his lead over Wright to just more than 200,000 votes, up from his 127,000-vote edge following the first balloting update. The race is unfolding much differently than a year ago, when Sandoval used a late surge to catapult ahead of Wright in the final week of voting, despite Wright's vastly superior 2012 first-half numbers.
Fans can cast their votes for starters at MLB.com and all 30 club sites -- online or via a mobile device -- using the 2013 All-Star Game MLB.com Ballot until Thursday, July 4, at 11:59 p.m. ET.
Fans may submit 25 online ballots during the voting period but can also earn a one-time bonus of 10 additional online ballots. To access these additional online ballots, fans must be logged into an MLB.com account when submitting any online ballot. To obtain a free MLB.com account, visit www.mlb.com and register in accordance with the enrollment instructions.
Fans can also once again participate in the Home Run Derby Fan Poll, with the opportunity to select three players in each league whom they would most like to see participate in the event. The 2013 Home Run Derby -- part of Gatorade All-Star Workout Day -- will be broadcast live on ESPN, ESPN HD, ESPN Deportes and ESPN Radio in the United States beginning at 8 p.m. ET on Monday, July 15.
The 2013 American League and National League All-Star teams will be unveiled on Sunday, July 7, on the 2013 MLB All-Star Game Selection Show, televised nationally on TBS. Baseball fans around the world will then be able to select the final player on each team via the All-Star Game Final Vote sponsored by freecreditscore.com on MLB.com.
And the voting doesn't end there. The final phase of All-Star Game balloting will again have fans participating in the official voting for the Ted Williams All-Star Game Most Valuable Player Award presented by Chevrolet. During the Midsummer Classic, fans will vote exclusively online at MLB.com via the 2013 All-Star Game MLB.com MVP Vote, and their voice will represent 20 percent of the official vote determining the recipient of the Arch Ward Trophy.
The 2013 All-Star Game will be played at Citi Field on Tuesday, July 16. Come to MLB.com for extensive online coverage of the All-Star Week festivities.
The 84th All-Star Game will be televised nationally by FOX Sports, in Canada by Rogers Sportsnet and RDS, and worldwide by partners in more than 200 countries via MLB International's independent feed. ESPN Radio and ESPN Radio Deportes will provide national radio coverage of the All-Star Game. MLB Network and SiriusXM also will also provide comprehensive All-Star Week coverage. For more information, please visit allstargame.com.
While Wright remains in the best shape to give the Mets a starting position player in this year's Midsummer Classic, Murphy has crept into the picture at second base. Despite cracking the top five, however, he still trails leader Brandon Phillips of the Reds by nearly 1 million votes.
Regardless of how the voting shakes out, the host club figures to have at least one other representative at the All-Star Game in phenom pitcher Matt Harvey. Closer Bobby Parnell could also be an option for the NL bullpen. Fans do not vote on pitchers.
As voting progresses, the biggest story for the Mets will likely once again be the race at the hot corner. Though Wright trails by a growing margin as of right now, Sandoval proved last year that nothing is set in stone until the final tallies are revealed ahead of next month's game.
NATIONAL LEAGUE ALL-STAR BALLOTING
(as of June 9)
CATCHER
1. Buster Posey, Giants: 1,961,861
2. Yadier Molina, Cardinals: 1,684,700
3. John Buck, Mets: 692,170
4. Brian McCann, Braves: 467,522
5. Jonathan Lucroy, Brewers: 423,115
FIRST BASE
1. Joey Votto, Reds: 1,569,477
2. Paul Goldschmidt, Diamondbacks: 928,647
3. Brandon Belt, Giants: 778,883
4. Allen Craig, Cardinals: 767,645
5. Freddie Freeman, Braves: 704,578
SECOND BASE
1. Brandon Phillips, Reds: 1,541,720
2. Marco Scutaro, Giants: 1,285,076
3. Matt Carpenter, Cardinals: 913,778
4. Chase Utley, Phillies: 774,314
SHORTSTOP
1. Troy Tulowitzki, Rockies: 1,691,262
2. Brandon Crawford, Giants: 1,015,633
3. Jean Segura, Brewers: 835,329
4. Pete Kozma, Cardinals: 595,416
5. Andrelton Simmons, Braves: 592,286
THIRD BASE
1. Pablo Sandoval, Giants: 1,674,157
2. David Wright, Mets: 1,473,381
3. David Freese, Cardinals: 720,939
4. Chris Johnson, Braves: 635,138
5. Ryan Zimmerman, Nationals: 532,493
OUTFIELD
1. Justin Upton, Braves: 1,666,026
2. Bryce Harper, Nationals: 1,616,784
3. Carlos Beltran, Cardinals: 1,550,844
4. Ryan Braun, Brewers: 1,283,103
5. Shin-Soo Choo, Reds: 1,043,839
6. Hunter Pence, Giants: 984,734
7. Carlos Gonzalez, Rockies: 955,568
8. Andrew McCutchen, Pirates: 952,618
9. Angel Pagan, Giants: 871,143
10. Matt Holliday, Cardinals: 868,829
11. Gregor Blanco, Giants: 722,441
12. Carlos Gomez, Brewers: 704,106
13. B.J. Upton, Braves: 582,401
14. Jon Jay, Cardinals: 577,251
15. Jay Bruce, Reds: 556,894
Paul Casella is a reporter for MLB.com. Follow him on Twitter @paul_casella. This story was not subject to the approval of Major League Baseball or its clubs.