Padres fall in walkoff after making six-run comeback
Padres fall in walkoff after making six-run comeback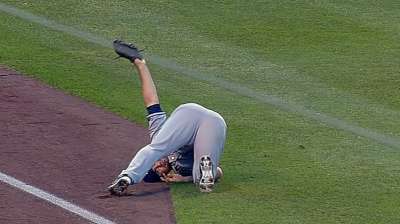 DENVER -- Even in the worst of times last season, and there were plenty early on, the Padres knew that they could always depend on the durability that starting pitchers Clayton Richard and Edinson Volquez provided, as the two combined for 25 victories in 65 combined starts.
This season, Richard and Volquez have mostly disappointed, in terms of working deep into starts and with their performance.
"I don't know if disappointed is the right word," said Padres pitching coach Darren Balsley. "Puzzling is maybe better."
An ineffective start by Volquez on Friday put the Padres in a deep hole in the second inning, though they battled back, only to lose when the Rockies' Nolan Arenado hit a walk-off home run in a 10-9 victory over the Padres before a crowd of 30,477 at Coors Field.
The story of the night for the Padres could have -- and likely should have -- been an offensive attack that tied the club's season high with 17 hits, as San Diego erased an early six-run deficit, thanks in part to home runs from Jedd Gyorko, Carlos Quentin and Kyle Blanks.
"Great comeback," said Padres manager Bud Black.
Instead, the Padres were left to ponder another short and ineffective start by Volquez, who allowed nine runs on 11 hits in 2 1/3 innings.
The Padres are 5-16 in games started by Richard and Volquez this season. And the other pitchers who have started? They're 23-17.
"I'm sure they're disappointed, too. We not only need innings, we need quality innings from those two," Balsley said. "It hasn't been there up to now. There have been flashes of them getting back to normal. It's in there somewhere."
The Padres (28-33), who have played four extra-innings games in their last 10 contests, will likely need to add another relief pitcher -- a fresh arm, if you will -- before Saturday's game, for reinforcements after a night where Luke Gregerson and Tim Stauffer were essentially off-limits due to a heavy workload in recent days.
"We're going to talk about it," Black said of adding a pitcher.
It's a familiar conversation that has come up far more than he has liked.
These are the anti-Padres, unlike any of the teams that Black managed in his first six seasons with the team -- teams that were built on pitching, teams that had to claw, fight and scrape for runs. It has been nearly the exact opposite this season.
"It's tough," Volquez said.
For Volquez's struggles, there was good pitching to be had for the Padres. Reliever Tyson Ross retired all eight batters he faced. Brad Boxberger had a dandy changeup working during his two scoreless innings. Tommy Layne added a scoreless inning of his own.
That strong pitching from the bullpen allowed the Padres to get back into the game with their bats, as Quentin and Gyorko hit consecutive home runs as part of a five-run seventh inning that saw the Padres tie the game at 9.
Gyorko had four hits in the game to raise his average to .288. Everth Cabrera, Quentin and Blanks each had three hits.
The Padres had the bases loaded with one out in the seventh inning, having already tied the game. But Chase Headley struck out and Quentin grounded out to end the inning. Headley left the game shortly thereafter with a sore right calf. He said after the game that he hopes it's not a strain.
The decision to pull Headley was made easier by the fact that Black called for a double-switch, a move that allowed Boxberger the chance to pitch a second inning. On a night where pitching was scarce, one additional inning of relief meant everything.
"It's not like a devastating calf injury," said Headley, who went 0-for-4 to drop his average to .229. "… Hopefully, it's just fatigue."
The pitching staff might be tired, but the offense looked fresh. The team bunched hits together in that pivotal seventh inning on hits of varying size and distance. The home runs were important, though an infield single by Cabrera plated the tying run.
The Padres put a lot of pressure on Rockies pitcher Jorge De La Rosa, keeping him from winning what would have been his eighth games of the season. He allowed four runs on 11 hits in five innings.
"They swing the bat very good today," De La Rosa said of the Padres. "I didn't have my best stuff today. Everything was up. They swung the bat very good, and they made me work a lot. That's why they got those hits against me. When I tried to throw a strike, I left it up, and I paid for it."
An encouraging sign, according to Gyorko.
"We swung the bat really well that inning," Gyorko said of the seventh. "It's good to see us bunch those hits together.
"That's a tough one, to fight back and lose at the end."
Corey Brock is a reporter for MLB.com. Keep track of @FollowThePadres on Twitter. This story was not subject to the approval of Major League Baseball or its clubs.