Rogers, bullpen lock down Blue Jays victory
Rogers, bullpen lock down Blue Jays victory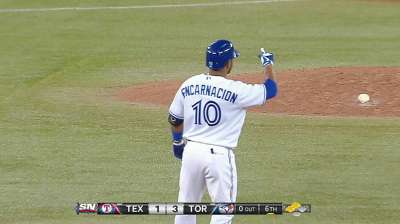 TORONTO -- The Blue Jays' starting rotation seems to be in a constant state of flux, but it's the bullpen that has become the glue that is holding everything together.
Toronto's bullpen entered the year as the supposed weakness on a team that had aspirations of the postseason, but so far it has been one of the few components to exceed expectations.
It was more of the same on Friday night, as right-hander Esmil Rogers made another spot start and tossed four strong innings before four relievers dominated for another five in the Blue Jays' 6-1 win over the Rangers at Rogers Centre that lasted a little more than two hours.
"They've been on a nice little roll," Blue Jays manager John Gibbons said of the bullpen. "We have some different ways we can attack you with some lefties and some righties. They're kind of feeding off themselves right now."
Rogers is a reliever by trade but has now made a pair of starts this season, in part because of injuries to Brandon Morrow, J.A. Happ and previously Josh Johnson. With a limited pitch count, Rogers has only thrown 7 1/3 innings in those two outings, but so far has given the Blue Jays everything they could have hoped for.
The 27-year-old has allowed only one run in his two starts while striking out 10, including six in four innings on Friday. He's done it with an impressive slider while also displaying better command than earlier in the season as a reliever.
There hasn't been any indication from the club about how long Rogers will last as a starter, but he has embraced the audition after sometimes getting lost in the shuffle among a group of talented bullpen arms.
"I'm grateful for the opportunity," Rogers said. "They gave me the opportunity, and I've tried to do my best ... I'm comfortable in any spot they give me. If I have an opportunity to pitch in the bullpen, I'm going to be comfortable there. I'm just doing everything I can to help win the game."
Rogers' only costly mistakes on Friday came in the first inning, when he surrendered a single to Jurickson Profar and then allowed the young infielder to reach second on a balk. Adrian Beltre followed with an RBI single, which accounted for Texas' only run. Rogers allowed three hits and one walk while striking out six.
With Rogers having not been properly stretched out as a starter, his games have essentially turned into bullpen days. The Dominican native goes as long as he can, and then turns things over to his fellow relievers.
The strategy can hardly be criticized, as Toronto's relievers have proven capable time and time again despite a heavy workload. The club's bullpen has thrown the most innings in the Major Leagues while posting an impressive 3.42 ERA.
The success carried over into the series opener against Texas, as Aaron Loup, Neil Wagner, Brett Cecil and Steve Delabar combined to throw five scoreless innings. The quartet struck out seven while facing the minimum 15 hitters. They allowed only one baserunner, Jeff Baker, who was promptly erased on a double-play ball.
"We have some weapons down there, some guys with good arms that can strike out guys," Gibbons said. "We were working ahead and everybody was fresh, everybody was basically on four days' rest. They all needed to pitch and they were all strong.
"Sometimes that doesn't work in your favor, sometimes when you're too strong you're a little erratic, but tonight that wasn't the case. It was nice to watch, that's for sure."
The organization's depth of relievers has shone in recent weeks. Despite an injury to left-hander Darren Oliver, and the need to carry 10 relievers at one point because of the high number of innings, the group continues to deliver.
Another viable option emerged in late May, when Wagner received a promotion from Triple-A. In five games this season, he has yet to allow a run over seven innings while surrendering only three hits and striking out four.
Despite being 29 years old, Wagner has a total of 11 appearances at the big league level. But he became a big storyline during Spring Training with his upper-90s velocity, and he hasn't showed any signs of slowing down.
"I worked pretty hard this offseason on changing what I felt like I needed to change from last season to this season," said Wagner, who earned his first career victory after tossing 1 1/3 scoreless innings. "I've just been repeating that, and things have been going well.
"I scrapped my curveball that I started throwing last year. I've been throwing more sliders and splits, and just been able to pound the zone more and repeat my delivery better."
The Blue Jays got on the board in the fourth when Melky Cabrera hit a solo homer to right off right-hander Nick Tepesch. It was Cabrera's third homer of the year and his first since May 24.
Toronto's breakout inning came in the sixth, as Tepesch temporarily lost command of the zone. The Blue Jays opened the frame with a hit batter, a single and a walk, which loaded the bases for Edwin Encarnacion.
The veteran designated hitter came through with a double to the gap in right-center field to put the Blue Jays up 3-1. A pair of sacrifice flies made it a 5-1 lead.
"He was good except for that sixth inning," Rangers manager Ron Washington said of Tepesch. "He only threw 11 pitches in that inning. It's a good learning experiencing for the kid. He's a kid. He just has to learn to continue to execute as long as he has a chance to stay in the ballgame."
It's the first time the Blue Jays have won back-to-back games since taking two in a row on May 26-27.
Gregor Chisholm is a reporter for MLB.com. Read his blog, North of the Border, and follow him on Twitter @gregorMLB. This story was not subject to the approval of Major League Baseball or its clubs.