Tepesch can't stave off rally, Rangers fall in Canada
Tepesch can't stave off rally, Rangers fall in Canada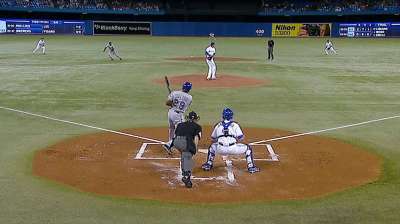 TORONTO -- All it took was one inning to change the fortunes of Nick Tepesch and the Rangers on Friday.
Tepesch was plowing through the Blue Jays' lineup until Toronto came to life in the sixth, scoring four runs and spoiling what was looking like another fantastic outing from the 24-year-old rookie.
The four-run inning was too much for Tepesch and the Rangers to overcome, as Texas' bats were silenced in a 6-1 loss to the Blue Jays in front of 36,010 to kick off a three-game set at Rogers Centre.
"He was good except for that sixth inning there," Rangers manager Ron Washington said. "It's a good learning experience for the kid. He's a kid. He's a young kid, he'll learn. He has the stuff to do it.
"Sometimes the pitcher executes what he needs to do and the hitters still get it done. Those guys are pretty good hitters over there."
The loss, which took a little more than two hours, coupled with Oakland's win over the White Sox, knocked the Rangers out of first place in the AL West.
Tepesch came out dealing before his sixth-inning troubles. Through five innings, the right-hander was nearly perfect. He retired nine straight to start the game, including striking out the side in the second. The only hit Toronto mustered off Tepesch over the first five innings was Melky Cabrera's homer, as he crushed an 0-1 offering into the second deck in right field, his third home run of the season, to lead off the fourth inning.
But things quickly turned south in the sixth. Despite throwing only 11 pitches in the inning, Tepesch faced seven batters and left with a 5-1 deficit.
Things started off on a bad note when Tepesch hit No. 9 hitter Munenori Kawasaki, and then allowed a single to Cabrera and walked Jose Bautista to load the bases with nobody out for Edwin Encarnacion. That's when the real damage occurred.
Encarnacion smoked the first pitch he saw for a double to center field that cashed in a pair to put Toronto ahead 3-1. Adam Lind and J.P. Arencibia followed with sacrifice flies to give the Blue Jays a 5-1 lead. Toronto added a run in the seventh on an RBI single from Cabrera, his third hit of the game, to go up 6-1.
Tepesch was mostly angry about hitting Kawasaki in the sixth, but otherwise felt he made some strong pitches. As far as his stuff, he said nothing was different that inning, and catcher A.J. Pierzynski believes Toronto's hitters deserved credit.
"Every time you see a hitter, they gain a little more knowledge each time," said Tepesch, who fell to 3-5 with a 3.92 ERA. "By that second and third time around, they have maybe seen all your pitches, so it's a lot easier for them to recognize."
Tepesch lasted seven innings, allowing six runs on five hits while walking two and striking out six. Minus the sixth inning, he allowed only one run and two hits. The one bad inning skews what was, for the most part, a strong outing, continuing a recent trend. Tepesch entered the start with a 1.96 ERA over his last four starts.
"If he pitches like he did tonight, he's going to win a lot of games," Pierzynski said.
It almost didn't matter how well Tepesch threw the ball, as Texas' offense was cold in its first trip this season north of the border.
The Rangers got on the board in the first courtesy of a two-out single by Adrian Beltre, who ripped a base hit up the middle to extend his hitting streak to 12 games and score Jurickson Profar from second base. That was the only run the Rangers could muster off Blue Jays starter Esmil Rogers -- who was sharp over his four innings -- and four Toronto relievers.
Texas has scored three runs or fewer in five of its last six games, and Washington said he has no answers for what is plaguing his club at the plate. Not only could the Rangers not score, they had trouble even making contact, striking out 13 times.
"If I could put a finger on it, you think we would be striking out 13 times?" Washington asked a reporter.
"In the first inning I thought we were going to have a breakout right there, but Rogers settled down and started making pitches on us," Washington said.
Rogers allowed one run on three hits while walking one and striking out a season-high six in his second start of the season. Toronto turned to Rogers, normally a reliever, due to injuries to its starting rotation, and a pitch-count limit forced him out of the game after throwing 73 pitches.
"I'm grateful for the opportunity," said Rogers, who has allowed only one run over 7 1/3 innings as a starter. "They gave me the opportunity, and I've tried to do my best ... I'm comfortable in any spot they give me."
As strong as Rogers was, it only got worse for Texas once the club was forced to face Toronto's bullpen. Aaron Loup, Neil Wagner, Brett Cecil and Steve Delabar faced the minimum over five scoreless innings. Toronto's bullpen has now thrown 17 2/3 consecutive scoreless innings.
"It kind of looked like a Spring Training game," Elvis Andrus said about the different arms the Blue Jays used.
Andrus felt it was difficult to face that many pitchers, but Pierzynski was not about to make excuses for the weak offensive showing.
"It's not like we don't have video of these guys and have never seen them before," he said.
Texas has lost six of its last seven road games after winning eight of its previous nine away from home. The Rangers have dropped two straight and four of their last six at Rogers Centre.
Chris Toman is an associate reporter for MLB.com. This story was not subject to the approval of Major League Baseball or its clubs.