UCLA shortstop Valaika taken by Rox in Round 9
UCLA shortstop Valaika taken by Rox in Round 9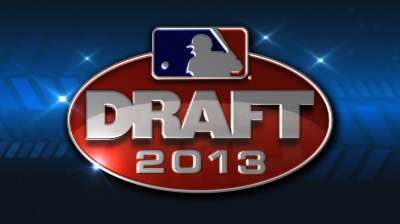 The Rockies tapped into a family with deep bloodlines in baseball when they grabbed UCLA shortstop Patrick Valaika in the ninth round of the 2013 First-Year Player Draft.
As the Bruins' cleanup hitter, Valaika has 58 hits and leads the team with five homers and 42 RBIs in his junior campaign. But his greatest value might come on the opposite end, as Valaika's .979 fielding percentage in 59 starts earned him the 2013 Pac-12 Defensive Player of the Year award.
Rockies senior director of scouting operations Marc Gustafson noted his defensive prowess is of particular value at a venue that favors hitters like Coors Field.
"When we stress ground balls from a pitching staff and the pitcher-catcher relationship, to call pitches that we would hope induce ground balls or double plays and things of that nature, you got to have somebody that can catch it, and you got to have somebody that can throw it across the diamond, Gustafson said. "And do it consistently."
Valaika, 20, may slide over to second base at the pro level due to lack of arm strength.
At 5-foot-11 and 200 pounds, he will likely never be a true power hitter, but he has the potential to spray the ball around the field and hit for average. He shows a maturity beyond his years at the plate with a team-high 32 walks this season.
With a year of college eligibility left, there's a chance Valaika will head back to Westwood for his senior campaign.
"He can handle the bat if called upon to sacrifice bunt, to move the runners, to bring the runner in from third with less than two outs," Gustafson said. "That's our focus, and that will be the focus going forward, is somebody that can be aware."
His UCLA team is one of 16 clubs in the NCAA Super Regionals after taking down San Diego -- home to highly-regarded slugger and second overall pick Kris Bryant. UCLA started a best-of-three series with Cal State Fullerton on Friday.
Patrick's oldest brother, Chris, is an infielder for the Miami Marlins and another brother, Matt, played a year of Minor League ball in the Cardinals' organization.
Ian McCue is an associate reporter for MLB.com. This story was not subject to the approval of Major League Baseball or its clubs.