Aramis, Segura help Crew complete comeback
Aramis, Segura help Crew complete comeback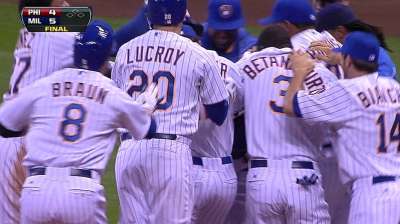 MILWAUKEE -- For all that has gone wrong for the Brewers this season, Friday night offered another reminder of one thing that has gone very, very right.
Second-year shortstop Jean Segura was the spark plug that fueled the team's biggest come-from-behind victory of the season, a 5-4 win over the Phillies at Miller Park that was sealed with Aramis Ramirez's winning single in the bottom of the ninth inning.
The Brewers' bullpen was excellent -- again -- and Ramirez's bat finished a comeback from a 4-0 deficit, but Segura's legs played just as big a role. He hit an RBI triple and scored the tying run on the same play thanks to a Phillies error in the seventh inning, then sparked the winning rally in the ninth by hustling down the first-base line for an infield hit. Segura motored to third on Ryan Braun's single to center field and, when Ramirez ripped a Jeremy Horst pitch to left field, Segura was able to trot home a winner.
"He can do it all on the field," Ramirez said.
He is doing it all at 23, the centerpiece of the trade that sent Zack Greinke to the Angels last season. The Brewers gave Segura a taste of the Major Leagues last August and September and installed him as the regular shortstop on Opening Day. He has responded by making a bid for the National League All-Star team.
Including Friday's 2-for-5 game, Segura leads the league with 80 hits, 19 infield hits and eight triples. His 16th stolen base left him tied for second in the NL in that category, and his .339 batting average has him tied for third with Colorado's Michael Cuddyer.
Segura has also played a terrific shortstop.
"There are some little [mistakes], but there aren't many," Brewers manager Ron Roenicke said. "To think of how much he handles the ball, how much he's on base, and to only have a few mistakes from a guy that young is pretty impressive."
The Brewers won for only the second time in their last six games, and both victories have come in walk-off fashion. Friday marked only the fifth time this season the Brewers have won after losing or being tied after eight innings.
Considering they entered the day with as many victories as the rebuilding Astros (22), Ramirez counted No. 23 as a big one.
"Any time you win a game, especially the way we did it tonight -- we came back against one of the best pitchers in baseball -- that's good for a team," Ramirez said.
That opposing pitcher was Philadelphia's Cliff Lee, who worked with a 1-0 lead in the first inning and a 4-0 lead in the fourth after his batters rallied against Milwaukee right-hander Alfredo Figaro, the first of two Brewers spot starters in as many nights. When Jimmy Rollins put the Phillies on the board with a first-inning single, it marked the 17th time in Milwaukee's last 21 games that the opponent scored first. Figaro retired nine of the next 10 batters he faced before the Phillies made it 4-0 in the fourth. Domonic Brown, a Brewer-killer so far this season, started the rally with a one-out double, and catcher Erik Kratz punctuated it with a two-run home run to the Brewers' bullpen in left field.
Figaro was charged with four earned runs and seven hits in 5 1/3 innings, with no walks and six strikeouts. He will make at least one more start, Roenicke said.
"We had a 4-0 lead. I'm still not very happy about giving that up," Lee said later. "But they've got a good offense and they kept grinding and pulled it out."
The Brewers reclaimed two runs in the bottom of the fourth inning on Yuniesky Betancourt's double over Brown's head, then tied the game at 4 in the seventh. After Norichika Aoki led off with a walk -- one of three issued by Lee -- Segura punched an opposite-field triple into the right-field corner and then scampered home on the play when Phillies second baseman Freddy Galvis bounced the relay throw past his catcher.
Segura slid headfirst into home and lay face-down in the dirt for several moments after colliding with the catcher, Kratz. He eventually stood, and remained in the game.
Does Roenicke ever worry that Segura might hustle his way into an injury?
"I do," Roenicke said. "It's not like I'm sitting out there worrying every day, but there's some things, he goes hard. He's always on the ground, diving somewhere. He's an exciting player."
Burke Badenhop secured a scoreless eighth inning with one pitch, inducing a double play with two Phillies runners on base, and Francisco Rodriguez pitched a 1-2-3 ninth inning before the Brewers scored in the bottom half and rewarded Rodriguez with a victory.
The Brewers' bullpen has been its best asset. Including 3 2/3 hitless, scoreless innings from John Axford, Brandon Kintzler, Michael Gonzalez, Badenhop and Rodriguez on Friday, the Milwaukee relief corps owns a 2.01 ERA over the team's last 31 games. Axford is riding a streak of 13 scoreless appearances, and Kintzler has been unscored upon in 12 of his last 14 appearances.
"They've been great, man. Our bullpen has been unbelievable," Ramirez said. "The starters can be better, and they will [be], I think. They're better than what they've been so far. But the bullpen is unbelievable so far."
Adam McCalvy is a reporter for MLB.com. Read his blog, Brew Beat, and follow him on Twitter at @AdamMcCalvy. This story was not subject to the approval of Major League Baseball or its clubs.