Sale undone by Donaldson's sixth-inning slam
Sale undone by Donaldson's sixth-inning slam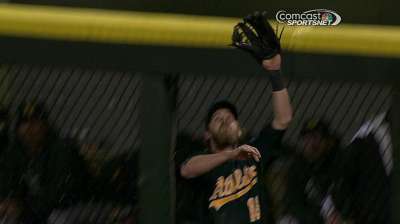 CHICAGO -- If Thursday's tough setback to the A's didn't perfectly sum up the White Sox disappointing 2013 season, then Friday's 4-3 loss to the A's before 22,861 at U.S. Cellular Field did the job.
Great pitching from White Sox ace Chris Sale (5-4) was tarnished by one bad pitch to Josh Donaldson that resulted in a sixth-inning game-winning grand slam.
Once again, there was not much offense from a team hitting .213 over its last 11 games. But when there was a chance to score in the eighth, with the first two runners reaching base, Alexei Ramirez popped up a sacrifice bunt and Alex Rios and Adam Dunn couldn't pick him up.
Even the breaks don't seem to go the White Sox way.
Dunn's long fly ball off Grant Balfour was caught by Yoenis Cespedes at the wall to end Thursday's contest, in what looked like a game-winning, two-run homer. Friday's pain came off the bat of Conor Gillaspie, who launched a drive from Balfour (15th save) that Josh Reddick reached over the wall in right to take away the game-tying homer.
The White Sox are playing just well enough to not be very good, leaving them with one win in their last 11 games, a season-worst record of 25-34 and eight games behind the American League Central-leading Tigers.
"I was stunned when Conor's didn't go out," said White Sox pitching coach Don Cooper, who served as manager Friday with Robin Ventura and bench coach Mark Parent home for family graduations. "Last night, I was thinking, 'Son of gun, how didn't Adam's ball get out?' But you know, it just didn't happen. Disappointing loss. It was looking good for a while."
"We are not playing like we want to play or should play, pitching, defense, hitting, all that stuff. But we're just running into some tough breaks, running into some bad luck," Sale said. "Robbing a home run, that's when you know it's not going your way at all."
The second game of this four-game set had a remarkably similar feel to the first. The White Sox took a 3-0 lead against Jarrod Parker (5-6), only to have the A's (38-25) rally for the victory.
Whereas the A's chipped away at the three-run deficit Thursday, it took just one Donaldson swing on Friday.
Donaldson connected on a 1-1, 95-mph fastball from Sale and drove out his first career slam to right just over the outstretched leap of Alex Rios. Donaldson's homer followed singles from Adam Rosales and Jed Lowrie and a walk to Cespedes.
Sale, who exited at 118 pitches after striking out Lowrie to open the eighth, thought Donaldson's connection was a sacrifice fly at the worst when it left the bat.
"Just one pitch came back to bite me," Sale said. "It just kept going. It shows you how important one pitch can be in a ballgame."
"He's a really good pitcher, one of the best, if not the best left-hander in the game right now," said Donaldson of Sale, who had his 17-inning scoreless streak at home snapped by the A's third baseman. "He just put himself in a situation where he had to come at me a little bit, and I was fortunate enough to get a pitch I could drive and was able to hit it out of the park."
Flowers' one-out homer in the third, marking his first since May 2, gave the White Sox a quick lead, and Dayan Viciedo's sacrifice fly in the fourth scored Rios with a second run. The White Sox added one more in the fifth on Alejandro De Aza's sacrifice fly.
As has been the theme all season for a team with a 10-12 record in one-run games, the White Sox finished one run short. Ramirez dropped the head of the bat on his eighth-inning bunt attempt, a popup which was caught by Donaldson, and the tone of this particular threat quickly changed.
Reddick's spectacular but seemingly effortless ninth-inning play added heartbreak to misery.
"Honestly, I thought it was hit right to me," said Reddick. "I was playing no-doubles defense and if you look at the video, I just froze for a second because I thought he got jammed, and I realized once it was about at its peak it was still going. Fortunately, I was playing deep and it was easier to get to."
"Again, another quality game to watch," Flowers said. "But not a good one to be a part of when you come out on the losing end."
With an 0-5 record against the A's this season, the White Sox will try to break free from a season full of near-misses Saturday afternoon in Ventura's return.
"Keep grinding," Sale said. "I don't see anybody giving up in here. We're still fighting, we want to win these games. I think it'll turn around soon."
"It's not from lack of effort. That's what's going on now," Cooper said. "I didn't see people not trying, not hustling. It just seems like right now when we're not going that good, anything that can go wrong seems to go wrong."
Scott Merkin is a reporter for MLB.com. Read his blog, Merk's Works, and follow him on Twitter @scottmerkin. This story was not subject to the approval of Major League Baseball or its clubs.