Ubaldo lasts three-plus innings in loss to Tigers
Ubaldo lasts three-plus innings in loss to Tigers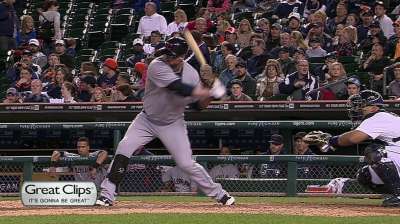 DETROIT -- The saving grace throughout the Indians' recent struggles has been that they have remained within striking distance of the American League Central-leading Tigers. This series in Detroit was an opportunity for Cleveland to regain its footing and make up some of the lost ground.
That did not turn out to be the case on Friday night, when the Tribe kicked off its three-game meeting in the Motor City with a 7-5 loss at Comerica Park. Ubaldo Jimenez took a step back after a recent run of success and Tigers ace Justin Verlander held the Indians down, sending Cleveland to its fifth consecutive defeat, despite a late rally.
The Indians have now dropped 13 of their past 17 contests. Entering that stretch, Cleveland was in first place with a 2 1/2-game lead over Detroit. The tables have since turned. With their latest loss, the Indians slipped to 3 1/2 back of the Tigers, who are vying for a third straight division crown.
"This team is so special in my mind already that I always believe," Indians manager Terry Francona said. "And I don't think that's going to change. I just think we're going to figure this out. In the meantime, sure, you hate to lose and it's so personal. But we'll figure it out."
If Cleveland -- now 30-30 and back at the break-even mark at for the first time since May 5 -- plans on reversing Detroit's dominance, Jimenez will need to play a key role in leading the team's rotation.
Jimenez had done well of late, going 4-1 with a 3.21 ERA in his past eight outings before Friday and averaging nearly six innings per start over that span. That said, the right-hander's past two appearances against the rival Tigers have not gone well. In those outings, Detroit (33-26) has collected 11 runs (nine earned) on 14 hits against Jimenez in a combined seven innings, forcing him to throw 181 pitches in the process.
While a throwing error by first baseman Nick Swisher contributed to Detroit's three runs in the second inning, Jimenez ended the evening charged with five runs (three earned) on seven hits in just three-plus frames. The Tigers pushed Jimenez's pitch count to 85 by the time he was pulled in the fourth, following three straight hits to open the inning. Jimenez had three strikeouts and three walks in the loss.
"In the first inning, I felt really good," Jimenez said. "In the second inning, everything was going the other way. I threw too many pitches in that inning and after that, I was kind of fatigued."
Victor Martinez got the Tigers on the board in the second when he pulled a 3-1 pitch from Jimenez into the right-field seats for a leadoff home run. Later in the inning, with one out and Brayan Pena on first base, Swisher gloved a grounder from Ramon Santiago and made a wild throw to second base in an attempt to start a double play. Shortstop Mike Aviles could not corral the ball and both runners reached safely.
"I just tried to get a little greedy," Swisher said. "Pena is not exactly a fast runner. I thought I was going to be able to do that, but I should've just taken the out at first."
The error set the stage for a bases-loaded, run-scoring single from Torii Hunter and a bases-loaded walk to Miguel Cabrera, putting Detroit in front, 3-0. The Tigers increased their advantage to 5-0 in the fourth inning, chasing Jimenez from the game in the process.
Detroit added two runs of insurance off the Tribe's bullpen later in the contest. One came courtesy of another error by Swisher -- this time with the glove. With no outs and Martinez on first in the fifth, Swisher booted a chopper from Jhonny Peralta, allowing Martinez to easily reach third. Pena brought Martinez across the plate with a double-play groundout against Indians lefty Nick Hagadone.
It marked only the fourth time in 342 career games that Swisher made two errors at first base.
"It was just a bad day," Swisher said. "I don't know what to say. It's just one of those rough days. You've got to forget about these and move on."
In the ninth, veteran Jason Giambi led things off with a home run, his sixth of the season, against Tigers closer Jose Valverde, who then allowed a solo shot to Drew Stubbs two batters later. That cut Detroit's lead to 7-5, but that is where Cleveland's comeback bid came to a close.
The Indians did what they could to rally against Verlander, but the ace was in control for the majority of his seven innings. All three Cleveland runs off the hard-throwing righty came in the fifth, when Michael Bourn chipped in an RBI single and Kipnis sent a pitch off the heel of Hunter's glove at the warning track in right field for a two-run double. That was the extent of the damage against Verlander.
Verlander entered the night with a 7.43 ERA in his past five starts, dating back to his outing against the Indians on May 11. In his previous two starts against Cleveland, the right-hander toiled through 220 pitches in only 10 innings of work, giving up nine runs (eight earned) along the way. The Tribe did not fare nearly as well this time around.
"He has another gear," Francona said. "Whatever pitches he has, you can almost multiply it, because he can pitch with his fastball at different velocities."
As for his struggling club, Francona said he does not believe the players are pressing.
"I really don't," Francona said. "Obviously, they care. We care. And the results haven't been there lately, but no, I don't feel that way. Again, obviously you care when the results aren't there, but I think they trust each other and I think they believe in each other."
Swisher, who is mired in an 0-for-20 slump, echoed his manager's remarks.
"I know we're a lot better than this," Swisher said. "It just feels like we're one hit away from being right in these ballgames. I don't think it's really getting to many guys, but hey man, you're going to go through stretches like this. It's tough. It's not fun to go through them at all. We've got to find a way to pull together and get through all this."
Jordan Bastian is a reporter for MLB.com. Read his blog, Major League Bastian, and follow him on Twitter @MLBastian. This story was not subject to the approval of Major League Baseball or its clubs.