Royals maintain hot streak by cooling off Astros
Royals maintain hot streak by cooling off Astros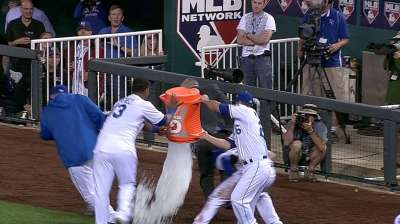 KANSAS CITY -- When it comes to celebrating a victory, the Royals need some practice.
After their third straight victory, 4-2, over the Houston Astros on Friday night, catchers Salvador Perez and George Kottaras tried to douse Eric Hosmer with a cooler of ice water during a TV interview. They missed, badly.
"That's terrible. He got away," Perez said.
The Royals hope they can practice that move again and again. After all, they believe that, after a bleak month, brighter days are ahead.
The Royals last won three straight during a four-game streak that ran through May 5, more than a month ago.
"We've got a little momentum, a little confidence going," said Billy Butler, who had a crucial hit in the eighth-inning rally. "Winning games late like that gives you confidence coming into the next day and we've done that three days in a row now."
The 24,808 fans on Girls' Night Out roared as the Royals snapped a 2-2 tie in the eighth. Hosmer led off with a single against left-handed reliever Wesley Wright. Right-hander Josh Fields took over and, after an out, Butler came up.
"I was standing next to Wade Davis," Royals manager Ned Yost recalled, "and I said, 'Boy, if Billy can just hit the ball down the third-base line, Hoz can score, or into the left-center field gap, he's going to be able to score.' Two pitches later, sure enough, he hit it down the line."
Hosmer dashed away from first base and didn't stop until he crossed the plate just ahead of the throw.
"When I was running to second," Hosmer said, "I took a peek and saw the guy hadn't got to it yet, but that's a great read by Eddie Rodriguez, the third-base coach. A great send, an aggressive move and it worked out well for us. It's a great job on his part."
Elliot Johnson, pinch-running for Butler, took third on a groundout and scored on David Lough's looping double into left field. All seven of Lough's RBIs since being called up on May 16 have come with two outs.
"Lough battled a high pitch to dump into the outfield for a second run," Yost said. "So, we had clutch hitting late in the game to give us the win."
Perez might have missed connections on dousing Hosmer, but a fastball thrown by Astros starter Jordan Lyles didn't get away in the fourth inning. As he did later in the eighth, Hosmer led off the inning with a single. Up came Perez, and Yost had a thought.
"We're sitting there and I just looked at George [Brett] and I said, 'If the count gets to 1-0, we just might hit-and-run here,'" Yost said. "George said, 'Yeah, that might be a good idea.' First pitch, homer. So, OK, we're not gonna hit-and-run."
No, because Perez deposited Lyles' first pitch high over Kauffman Stadium's left-field wall for a 2-1 Royals lead.
"He threw me a lot of fastballs in the first inning, so I thought maybe he'd throw 'em again and I was ready," Perez said. "And he threw me one and I hit it."
Yeah, it landed about 400 feet away near the Royals Hall of Fame.
"I'm not happy with the pitch I made to Perez," Lyles said. "I was trying to go in and get him to roll over for a double play. It was up and he put a good swing on it."
It was the Royals' second home run in two nights after a long dry spell. Lorenzo Cain's two-run blast on Thursday night ended a homerless drought of 52 innings by the Royals. It also wrapped up a 7-3 victory over Minnesota.
When Perez teed off, Royals starter James Shields enjoyed the luxury of a lead for the first time in 24 innings. His last previous lead came on May 17 at Oakland, 1-0 in a complete-game effort that he lost, 2-1.
That was symptomatic of Shields' lack of run support this season. He went into this game ranking as the American League's third-most run-deprived starting pitcher, behind only teammate Ervin Santana and the White Sox's Chris Sale. Despite a 2-6 record, Shields has a 2.81 ERA, one of the league's best.
"He threw great again and is about as consistent as they come," Butler said. "He competes his tail off out there. It's unfortunate we couldn't get him a win tonight, but it's a team win. If he can pitch like that, he'll win his fair share of games."
Shields' 2-1 lead vanished in the seventh inning when Jason Castro's RBI double created a tie. That was Shields' last inning and he would have no decision, still without a win since April 30 against his old Tampa Bay team, eight starts back. But he's encouraged by the team's three-game spurt.
"We're playing some baseball now and it's good to see," Shields said. "Today was a grind day. I think I was in trouble almost every inning, but we made some unbelievable plays on defense."
Among them was Lough's tumbling, overhead catch of Matt Dominguez's deep drive to right-center with two on and two out in the sixth inning.
"It was a great play, running back to the wall. That saved a big inning for us right there," Yost said.
Kelvin Herrera was rewarded with the victory after pitching a perfect eighth inning. Greg Holland worked a 1-2-3 ninth for his 11th save.
In the Royals' happy clubhouse, a fresh sense of optimism was flowing.
"We're going to win ... I don't know -- a lot of games," Herrera said, smiling.
Dick Kaegel is a reporter for MLB.com. This story was not subject to the approval of Major League Baseball or its clubs.