Wainwright, Cards cruise past Reds, pad Central lead
Wainwright, Cards cruise past Reds, pad Central lead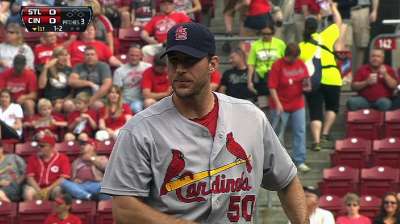 CINCINNATI -- There is no division title to be clinched in June, no champagne to be sprayed. But seizing the opportunity now to create some separation atop the division can certainly reduce how obstructed the path to the playoffs can become later.
The Cardinals opened a nine-game road trip on Friday night by cushioning their National League Central lead by another game and flexing their division superiority with a 9-2 victory over the Reds in front of 38,874 at Great American Ball Park. Now 5-2 against Cincinnati this season, the Cardinals enjoy a season-high four-game division lead over both the Reds and Pirates.
"You can feel how you want to feel, but the stats don't lie," Reds manager Dusty Baker said of the Cardinals. "They've got everything working over there. We don't have everything working over here. To answer your question, they are the team in baseball because they are the best team in baseball."
The numbers, indeed, support the claim.
With the win, the Cardinals became the Majors' first club to reach the 40-win threshold, doing it in 14 fewer games than they did a year ago -- a season in which they were one win away from the World Series. No club has a better road winning percentage (.710) than St. Louis, and no one has come close to the level of offensive proficiency with runners in scoring position.
After going 8-for-17 in those situations on Friday, the Cardinals are hitting .343 in such spots. No other National League club entered the day hitting better than .283.
"We make a big deal about when these guys grind these at-bats," manager Mike Matheny said. "I sound like a broken record, but it's just the good at-bats. Even some of the ones that turn into outs, they're hard outs. That's a sign of a pretty good approach."
The offensive attack was balanced -- all eight starting position players finished with at least one hit, each reaching base at least twice and seven different players scored -- though the run production was concentrated largely in the lower part. And six of the team's runs scored with two out.
Said Pete Kozma, when asked about the team's recurring success with two outs and runners on: "I don't really see anything that would be different other than we get hits whenever we need them."
Jon Jay and Kozma, who had gone a combined 7-for-64 during the team's recent homestand, drove home five runs from the seventh and eighth spots in the lineup. David Freese, batting in the six-hole, extended his hitting streak to a Major League-best 17 games with his two-hit, two-RBI night.
"We take pride in driving guys in," said Freese, whose average has climbed from .209 to .286 during his roll, which was kick-started by a grand slam against the Brewers. "We get a lot of guys on base. We just know if we keep the train moving, we're going to have an opportunity offensively to put some runs across the board."
Adam Wainwright backed the overwhelming support with his 12th quality start of the year to become the Majors' second nine-game winner. Wainwright covered the first seven innings, providing a much desired breather for a recently overworked bullpen.
What morphed into a rout opened as a pitchers' duel, with Wainwright and Reds starter Mike Leake trading scoreless frames for three innings. Leake looked as if he might successfully skirt around trouble in the fourth, too, striking out Yadier Molina with two on and one out.
But Freese, Jay and Kozma each followed with run-scoring knocks up the middle, pushing the Cardinals ahead, 3-0. The bottom part of the order delivered again in the sixth, with Jay doubling home one and Kozma following with a two-run double off reliever Logan Ondrusek.
"They've got a great lineup," Leake said. "You can't take a break against any of them. You have to keep going after them and challenge them. You can't pitch timid against them or they will make you pay."
Matt Carpenter capped the sixth with an RBI single, extending his hitting streak to 16 games. Carpenter, along with Freese and Allen Craig (11 games), boast three of baseball's four longest active hitting streaks.
Meanwhile, Wainwright was as he has been for most of the season. Having entered with a 14-to-1 strikeout-to-walk ratio, Wainwright fanned seven and issued just his seventh walk of the year. He has now pitched at least seven innings in 10 of his 13 season starts. Wainwright leads the league with 96 innings.
Remarkably, he's had the run of success while routinely tinkering with just about anything he can, too. In an effort to keep hitters from establishing any timing, Wainwright has, pitch-to-pitch, been altering his mechanics with ease -- from where he stands on the pitching rubber, to where he makes his arm slot to the speed of his curveball, to the total time it takes to finish his motion.
On Friday, the added nuance was sporadically putting his glove over his head during his delivery.
"I think it's just another way of mixing things up and being the complete pitcher," Wainwright said. "As long as you're OK in your delivery and can mix speeds with your pitches, why not mix with your delivery? Give them a different look -- one over the head, one not. I just think it's a different way to give different looks."
Wainwright will enter his next outing one strikeout shy of 1,000 for his career. Friday marked his sixth start this season in which he had struck out at least seven.
"Playing against them right now, obviously it's a good time to try to put some distance in between us," Wainwright said. "But they're so good that we need to just focus on what we're doing and we'll be OK."
Jenifer Langosch is a reporter for MLB.com. Read her blog, By Gosh, It's Langosch, and follow her on Twitter @LangoschMLB. This story was not subject to the approval of Major League Baseball or its clubs.