Given chance to gain on Cardinals, Reds falter
Given chance to gain on Cardinals, Reds falter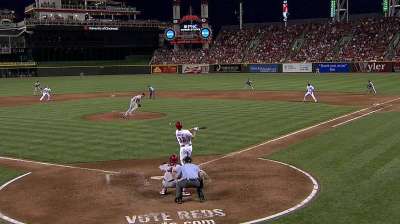 CINCINNATI -- It hasn't benefited the Reds much that they have played .600 baseball to this point while weathering injuries. The Cardinals, even with their own injury attrition issues on their roster, have been a juggernaut and the best team in all of baseball.
When the Reds were winning, the Cardinals were winning. When the Reds were losing, the Cardinals were winning. The best way to close the gap is to face them head on, a chance that presents itself this weekend at Great American Ball Park.
Well, the Cardinals are still winning. They knocked around the Reds to hand them a 9-2 defeat on Friday. St. Louis, with a Major League-best record of 40-21, opened up a four-game lead in the National League Central over a Cincinnati club (36-25) that's tied for second place with the Pirates.
"Right now we just have to keep going and keep fighting," Reds third baseman Todd Frazier said. "At the same time, it's one game. We have to try and win the series. What are you going to do? It was ugly. At the same time, we can learn from everything."
Reds starter Mike Leake came into Friday's meeting against Cardinals ace Adam Wainwright on a roll. Leake had only allowed one earned run over 27 innings in his previous four starts. He gave up three fourth-inning runs and six hits overall over his five innings with one walk and three strikeouts.
The turning point of the game essentially came down to how both starting pitchers responded to 12-pitch plate appearances.
In the Reds' third, Shin-Soo Choo dueled Wainwright for 12 pitches that included five foul balls with two strikes. The result was a Choo walk that gave Cincinnati runners on first and second with one out. It was only the seventh walk Wainwright allowed all season.
Zack Cozart followed by grounding the second Wainwright pitch to third base for an inning-ending double play.
Leake retired his first nine of 10 batters through three innings and had a runner on first base with one out in the St. Louis fourth when Allen Craig batted. Craig fouled off six straight 3-2 offerings before hitting a single to right field on the 12th pitch of his at-bat.
"He was throwing everything but the kitchen sink up there," Reds manager Dusty Baker said. "That's how you wear him out and get a pitcher out of the game."
Leake threw sinkers and cut-fastballs to Craig, but did not go with anything offspeed as the Cards' hitter stayed alive.
"He kept fouling them off, fouling them off," Leake said. "I was trying to get him to hit one off of the end [of his bat]. He didn't hit that one all that great, but found a hole. I couldn't really do much about it. I felt I could have dropped in something a little slower against him, but I just felt like staying with what I was going with.
"That at-bat got me a little bit."
After Yadier Molina struck out, the Cardinals knocked three straight two-out singles. David Freese extended his hitting streak to 17 games with a line drive into center field that scored Matt Holliday. Jon Jay followed with a lined RBI single to right-center field to score Craig, and Pete Kozma's RBI single to center field made it a 3-0 game.
Leake needed 33 pitches to get through the fourth, bringing his total to 85. He was finished after having 97 pitches through the fifth. Wainwright only had 59 pitches through four innings.
In the sixth following a two-out single by Brandon Phillips that put runners on the corners, Jay Bruce rolled a hard single into right field that scored Cozart.
In the seventh, Choo's two-out double through the gap in left-center field scored Devin Mesoraco to make it a six-run game.
"Playing against them right now, obviously it's a good time to try to put some distance in between us," Wainwright said. "But they're so good that we need to just focus on what we're doing and we'll be OK."
St. Louis came into the night with a .339 team average with runners in scoring position and a .325 average with runners in scoring position and two outs. Both stats are best in the Majors. The Cardinals were also tied with the Reds for the NL's best on-base percentage at .335.
"They've got a great lineup," Leake said. "You can't take a break against any of them. You have to keep going after them and challenge them. You can't pitch timid against them or they will make you pay."
The Reds bullpen paid as St. Louis roughed up reliever Logan Ondrusek in the sixth for four runs and four hits, including three doubles, to blow open the game. J.J. Hoover and Manny Parra gave up one run each in the seventh and eighth innings.
All eight Cardinals starters reached base at least twice, and seven different players scored in a balanced attack. Reds pitchers have allowed at least 16 hits in consecutive games for the first time since Aug. 24-25, 2010. On Wednesday vs. Colorado, the Reds took a 12-4 pounding.
Cincinnati has not lost three straight games at home since Sept. 16-19, 2011. It has scored two or fewer runs in six straight games vs. St. Louis, a feat that it hadn't accomplished since 1974.
"Not a whole bunch to say," Baker said. "It's just very discouraging to get your butt kicked a couple of days in a row. That's enough."
Mark Sheldon is a reporter for MLB.com. Read his blog, Mark My Word, and follow him on Twitter @m_sheldon. This story was not subject to the approval of Major League Baseball or its clubs.