Nationals begin Day 2 by taking infielder Ward
Nationals begin Day 2 by taking infielder Ward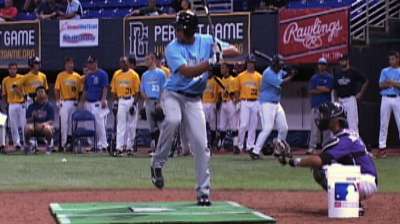 After using their only pick on the first day of the 2013 First-Year Player Draft on a pitcher, the Nationals opened Day 2 on Friday by selecting high-school infielder Drew Ward with their third-round pick, No. 105 overall.
Originally a member of the 2014 graduating class, Ward made the decision last fall to speed up the process and graduate one year early from Leedey (Okla.) High School. After fulfilling a series of requirements, he was declared Draft-eligible in March.
"He would normally be going into his senior year," Nationals assistant general manager and vice president of player personnel Roy Clark said. "We started scouting him last summer. Big, strong, physical left-handed hitter."
Ward played shortstop in high school, but profiles as a third baseman at the next level, according to Nationals crosschecker Jimmy Gonzales. The 6-foot-4, 215-pound prospect has signed a letter of intent to play baseball at the University of Oklahoma.
"He's going to outgrow his body," Clark said. "He's a big guy."
Ward's hometown, Leedey, Okla., has fewer than 500 residents, and his high school competed in Class B, the smallest division in Oklahoma. As a result, the 18-year-old has typically been one of the best players in every high school game that he has played.
As a freshman, Ward reportedly batted .717 during the fall baseball season, and .578 during the spring. He also set a then-state record by being walked a combined 88 times during both campaigns.
If Ward does not sign with the Nationals, he would continue a family tradition at Oklahoma. His father, Gregg, grandfather, Bob, and uncle, Mark, all played baseball for the Sooners, and his mother, Susan, competed in track and field.
Tom Schad is an associate reporter for MLB.com. This story was not subject to the approval of Major League Baseball or its clubs.