Balanced Day 2 of Draft starts with HS OF Milone
Balanced Day 2 of Draft starts with HS OF Milone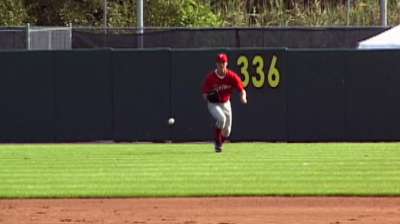 ST. PETERSBURG -- The Rays didn't set out to put together eight almost completely balanced rounds Friday in the First-Year Player Draft. But by the time Day 2 of the 2013 Draft was over, they had selected four college players and four out of high school, four right-handed pitchers and four position players.
"It's not really a conscious effort," Rays scouting director R.J. Harrison said. "Andrew [Friedman, executive vice president of baseball operations] likes to talk about having amnesia -- don't worry about the pick before; let's just worry about this pick -- so that's what we did."
Friday's crop of picks was headlined by a pair of players with strong bloodlines: high school second baseman Kean Wong, brother of third-ranked Cardinals prospect Kolten, and Loyola Marymount University right-hander Aaron Griffin, brother of A's pitcher A.J.
"That's good. I think it's always good," Harrison said. "In all those guys' cases, it should be an advantage."
But the Rays' first pick of the day was third-rounder Thomas Milone, selected 97th overall. A center fielder from Masuk (Conn.) High School, Milone hit .471 with a .589 on-base percentage, stealing 28 bases in 29 attempts over 23 games as a senior.
A Connecticut commit, Milone was a two-sport star in high school, playing running back and returning punts for the football team. But he still has an advanced feel for baseball, and Harrison expects him to improve "by leaps and bounds" in the coming years.
"He's got good athletic skills," Harrison added. "We saw him last year playing in the East Coast Showcase and out in the Area Code Games. He competed very well with the best guys in the country, found his way on base all the time and he's a strong kid. Good pull power. He's a strong kid, a football player up there. We like him a lot."
The Rays picked another high schooler in the fourth round in Wong before going back into the collegiate ranks to select Johnny Field, a second baseman from the University of Arizona. Field is the only right-handed hitting prospect in the Rays' Draft class thus far.
Of the six position players Tampa Bay has drafted, including first-round catcher Nick Ciuffo and second-round shortstop Riley Unroe, four have been left-handed hitters. Unroe is a switch-hitter. Milone, Wong and seventh-round pick Tyler Young all bat left-handed. Harrison said the Rays didn't draft that way intentionally, but given the number of right-handed hitters who have entered their system over the past few seasons, it was a welcome trend.
"We had gone pretty heavy [on] right-handed hitters the last couple, three years in the Draft. Again, that's just kind of the way it worked," Harrison said. "You're drawing from whatever the pool of applicants is. But that was good. We were excited. We like the guys we got."
Four of the Rays' final five picks on Friday were right-handed pitchers: sixth-rounder Stephen Woods, eighth-rounder Roel Ramirez, ninth-rounder Austin Pruitt and Griffin, their last selection of the day. Woods and Ramirez were drafted out of high school, while Pruitt and Griffin are coming off their senior seasons in college.
As happy as Harrison and the Rays' front office were with the way things worked out Thursday night, when they picked up Ciuffo early and had Ryne Stanek fall to them at No. 29, they were just as pleased to see how Day 2 shook out.
"When you get a guy that you like, you feel fortunate. I think all of these guys, we worried that they would go ahead of us," Harrison said. "We just felt good that we were in position to be able to select these guys. And now it's our job to get out and get them signed and get them out playing.
"It was a good day. It was a great night last night and a good day today."
Day 3 of the Draft continues with Rounds 11-40 streamed live on MLB.com on Saturday, starting at 1 p.m. ET.
MLB.com's coverage includes Draft Central, the Top 100 Draft Prospects list and Draft Tracker, a live interactive application that includes a searchable database of Draft-eligible players. You can also keep up to date by following @MLBDraft on Twitter. And get into the Draft conversation by tagging your tweets with #mlbdraft.
In the Pipeline
The Rays tend to be patient with their prospects, moving them along slowly, and especially with pitchers, one level at a time. They generally stick to the best-player-available philosophy rather than picking for need, arguing that the latter strategy is too short-sighted considering the unpredictable nature of player development and roster management.
Though the Rays' system isn't particularly deep with catchers, it's unlikely that Ciuffo would start anywhere above the Rookie league or short-season Class A Hudson Valley. The same would go for Stanek, although his college pedigree could help him move more quickly through the system, while the players selected out of high school, like Unroe, Milone and Wong, would be on the opposite end of the spectrum.
The most important thing to the Rays is that their picks sign as quickly as possible to begin their development under the organization's watch.
"Now, we start the process," Harrison said. "Hopefully it'll go cleanly and we can get these guys out playing. I think it's really in everybody's best interest to get them out and start playing and not lose this development time."
Adam Berry is a reporter for MLB.com. Follow him on Twitter at @adamdberry. This story was not subject to the approval of Major League Baseball or its clubs.