Unroe's connections to Rays include Maddon
Unroe's connections to Rays include Maddon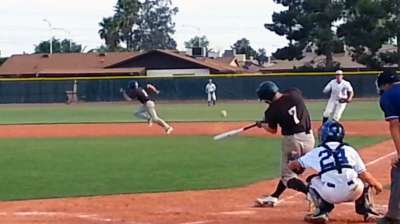 ST. PETERSBURG -- Riley Unroe already had at least two connections to the Rays before they picked him in the second round of the First-Year Player Draft on Thursday night.
Unroe, a switch-hitting shortstop out of Desert Ridge High School in Arizona, is a friend of Travis Flores, who was picked by Tampa Bay in the 11th round of the 2010 Draft. But the more interesting connection comes through his father, former Major Leaguer Tim Unroe, who played for the Brewers, Angels and Braves from 1995-2000. And who was Tim Unroe's bench coach on the 1999 Angels? Rays manager Joe Maddon.
"He did tell me that," Unroe said Friday morning, a day after being picked 60th overall. "He was excited, of course. He had to deal with making the phone calls all day. It was kind of a stressful day, so it was a relief when my name was called. ... It was exciting getting drafted. It's pretty cool, and I'm really glad I got an opportunity."
It's also a unique opportunity in the sense that Unroe, ranked by MLB.com as the No. 92 overall Draft prospect, can choose to begin the same career his father started 21 years ago.
"He taught me everything I know," Unroe said. "Anything from keeping my butt down on a ground ball to keeping my hands through the zone as well as mentally preparing for a game and how to handle myself during a game and after a game."
Unroe said he can play "wherever," but the biggest reason he moved up Draft boards this year was the fact that more scouts believe he'll remain a shortstop for the long haul. If given a chance to play shortstop in the Rays' organization, Unroe said he'd "make it count."
He also came on strong with his bat during his senior year, posting a .553 average with 10 homers, 14 doubles and five triples to go along with 59 RBIs, 54 runs scored and 25 stolen bases in 29 attempts.
"There's been reports that I didn't have power, but then I worked on some things with my swing and then was able to put up some power numbers," Unroe said. "As far as what I bring to the table, I believe I'm a five-tool player because I steal bases, I hit home runs, I can get on base and be a table-setter and I can play anywhere on the field and be good at it."
The one thing possibly standing in the way of Unroe joining the Rays is his commitment to the University of Southern California. Several reports have cast doubt on whether Unroe would accept the slot value assigned to the 60th overall pick ($927,500) when he has a chance to play at USC. That could provide him with some leverage in his negotiations with the Rays leading up to the July 12 deadline, and Unroe acknowledged the process of weighing his options will be difficult.
"USC was really confident in me when I made the decision to commit to them, and I feel really comfortable about going there. To give it up, a full ride to USC for the next three or four years, it'll be tough," Unroe said. "But I've got to weigh my options and talk to my parents and see what the best option for my future is."
Rays scouting director R.J. Harrison said the team believes Unroe will be an up-the-middle player in some regard, whether it's at shortstop, center field or second base, and they like the combination of his Major League bloodline plus his natural baseball instincts. And he didn't sound too concerned about the task of luring Unroe away from USC.
"We're optimistic we're going to be able to do that," Harrison said. "But like my wife says, tell me about it when you have him signed."
Bill Chastain is a reporter for MLB.com. Adam Berry is a reporter for MLB.com. Follow him on Twitter at @adamdberry. This story was not subject to the approval of Major League Baseball or its clubs.