Brewers use third-round pick on college righty Astin
Brewers use third-round pick on college righty Astin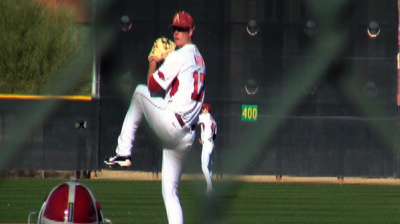 MILWAUKEE -- The Brewers opened Day 2 of the First-Year Player Draft on Friday by selecting Arkansas right-handed pitcher Barrett Astin as the first of their eight picks on the day.
Milwaukee took Astin in the third round with the 90th pick overall, making him the third Arkansas pitcher taken off the board behind Ryne Stanek (29th overall) and Colby Suggs (73rd).
Brewers amateur scouting director Bruce Seid said the team thinks Astin "has a chance to be a pretty good starter. He works both sides of the plate up and down and he throws the breaking ball for strikes," Seid said.
Astin served as Arkansas' closer in 2012 and helped his team reach the College World Series, but he was converted mainly to a starter this year. The right-hander started 14 of the 18 games he appeared in, pitching a career-high 90 2/3 innings.
While Arkansas couldn't repeat its deep run in the NCAA Tournament, Astin had his best statistical year, pitching well in both roles while holding a 1.79 ERA.
"He's got a good delivery and everything seems to work," Seid said. "The ingredients are there for him to be a pretty good starter for us."
Astin relies on his low-90s sinker. It has good tailing action, and he isn't afraid to attack hitters with it. He notched 79 strikeouts this season as a junior and walked just 20 hitters. His secondary offerings aren't as well-developed as his fastball, but he has the makings of a solid slider.
Astin will have to improve his offspeed pitches to be a starter as a professional, but there could be more upside if he returns to his previous role. He has the makeup to pitch in high-leverage situations as a reliever.
Astin was the first of three consecutive right-handed pitchers taken by the Brewers on Friday, followed by Taylor Williams of Kent State and Joshua Uhen of University of Wisconsin - Milwaukee, in the fourth and fifth rounds, respectively.
Milwaukee finished Day 2 picking three outfielders (Omar Garcia, Brandon Diaz and Michael Ratterree), a first baseman (Garrett Cooper) and a left-handed pitcher (Tyler Linehan).
Day 3 of the Draft continues with Rounds 11-40 streamed live on MLB.com on Saturday, starting at 12 p.m. CT.
MLB.com's coverage includes Draft Central, the Top 100 Draft Prospects list and Draft Tracker, a live interactive application that includes a searchable database of Draft-eligible players. You can also keep up to date by following @MLBDraft on Twitter. And get into the Draft conversation by tagging your tweets with #mlbdraft.
In the Pipeline
The Brewers loaded up on arms in the first two days of the Draft, selecting four right-handed college pitchers in their first five picks, and adding left-hander Tyler Linehan in the ninth round.
The college pitchers could fit in nicely behind pitching prospects the Brewers already have and like.
Seid believes the Brewers have pitching at the upper levels of the system that will make it to the Majors, starting with Johnny Hellweg and Jimmy Nelson at Triple-A Nashville, Taylor Jungmann and Drew Gagnon at Double-A Huntsville and Jed Bradley and David Goforth at advanced Class A Brevard County.
Kevin Massoth is an associate reporter for MLB.com. This story was not subject to the approval of Major League Baseball or its clubs.