Rockies add SoCal prep McMahon in Round 2
Rockies add SoCal prep McMahon in Round 2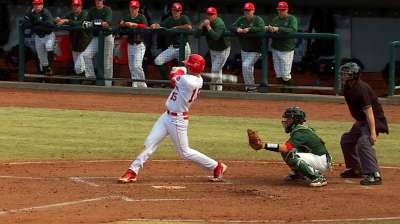 DENVER -- The Rockies picked up athletic ability in left-handed-hitting high school third baseman Ryan McMahon, and more pitching in college righty Alex Balog with their final two picks on Thursday -- the first day of the 2013 First-Year Player Draft.
McMahon, out of Mater Dei High School in Santa Ana, Calif., was the club's second-round pick, 42nd overall. Blalog was the 70th player chosen, in Competitive Balance Round B.
Colorado started the evening by taking University of Oklahoma right-hander Jonathan Gray with the third pick in the first round.
"We feel good about it," Rockies vice president of scouting Bill Schmidt said of the Day 1 haul. "We drafted two big, physical right-handed pitchers and their repertoire should be good at our ballpark, and we took a young athlete that we feel has a chance to be an offensive player."
Day 2 of the Draft continues with Rounds 3-10, streamed live on MLB.com on Friday, beginning with a preview show at 10:30 a.m. MT. And Rounds 11-40 will be streamed live on MLB.com on Saturday, starting at 11 a.m.
MLB.com's coverage includes Draft Central, the Top 100 Draft Prospects list and Draft Tracker, a live interactive application that includes a searchable database of Draft-eligible players. You can also keep up to date by following @MLBDraft on Twitter. And get into the Draft conversation by tagging your tweets with #mlbdraft.
The McMahon pick was a nod toward increasing the organization's overall athletic ability.
McMahon, 18, led Mater Dei to a 24-3 record, a No. 19 ranking in USA Today's high school baseball poll and the championship of the National High School Invitational tournament. McMahon hit .353 (36-for-102) with 11 doubles, four home runs, 23 RBIs and 16 runs in 30 games as a senior. He was the Trinity League Most Valuable Player.
Also, McMahon was starting quarterback on the football team for much of his time in high school, which is no small feat considering the school has produced Heisman Trophy-winning quarterbacks Carson Palmer and Matt Leinart. An injury cost McMahon the starting job his senior year, but he honored his commitment to the team by staying on and helping the new quarterback.
McMahon, who is about 6-foot-2 and 180-185 pounds with a quick swing, impressed scouts with his physical tools. MLB.com rated McMahon 74th on its list of top 100 prospects. Schmidt said he could see McMahon go from a rangy youngster to a 200-pound, physical Major Leaguer.
"Along with being a quality baseball player, he's a projectable kid, a quality baseball player," Schmidt said. "There is room for physical growth and development. In time, he's got a chance to be a very quality Major League player.
"It's a loose, handsy stroke. He's a competitor, a leader. There are a lot of qualities outside of his physical tools that have a chance to make him a championship player."
McMahon has signed a letter of intent to play baseball for Southern Cal.
Balog, listed at 6-foot-6 and 225 pounds, was rated 44th on the MLB.com prospect list. As a junior at the University of San Francisco, Balog was 3-4 with a 3.63 ERA, with 67 strikeouts against 33 walks in 14 starts.
"He's a sinker-slider guy with some heaviness to his fastball, 92-95 mph," Schmidt said. "He has a three-pitch mix."
Thomas Harding is a reporter for MLB.com. Read his blog, Hardball in the Rockies, and follow him on Twitter @harding_at_mlb. This story was not subject to the approval of Major League Baseball or its clubs.