Milestone K little consolation to Harang in defeat
Milestone K little consolation to Harang in defeat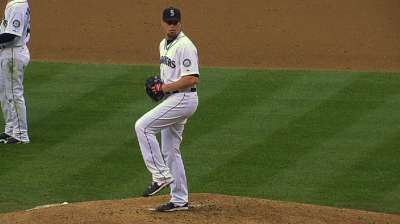 SEATTLE -- Blake Beavan was sent to the Minor Leagues for more seasoning when the Mariners opted to trade for veteran Aaron Harang in early April. For one night, at least, the roles were reversed, as Beavan came in to pitch brilliantly following a 2 1/3-inning clunker from Harang in Thursday's 6-1 loss to the visiting Yankees.
Beavan was called up from Triple-A Tacoma on Thursday morning to bolster Seattle's bullpen after every available pitcher had been used in Wednesday's 16-inning, 7-5 loss to the White Sox. The right-hander retired the first 14 batters he faced, finishing the game giving up only one hit to New York.
"I kind of got out of whack up here the first time just trying to do stuff that is not me, which, for me, is using my fastball and letting other stuff play off that," Beavan said. "So this time around, I feel a lot more comfortable. I feel like I've got an idea of what I'm trying to do out there even though I'm not starting and coming out of the bullpen."
Harang, who didn't post a quality start in April, reverted to his early-season struggles, giving up back-to-back home runs to Robinson Cano and Mark Teixeira in a six-run third inning that took the wind out of the Mariners' sails.
"It's just one of those tough situations," Harang said. "You're going to have those innings, and obviously I made the mistakes at the wrong time with Cano with runners on. It just seemed like everything was kind of spiraling out of control. I was trying to make pitches, and obviously it spiraled out of control too fast."
Harang (2-6) had put together quality starts in four of his previous five appearances but quickly put himself in a hole.
There was one bright spot, however, for Harang, who logged his 1,500th career strikeout when he whiffed Teixeira in the first inning.
Yankees starter Phil Hughes allowed only three hits in seven innings, a complete turnaround from the last time he faced the Mariners on May 15. That night at Yankee Stadium, the right-hander lasted only two-thirds of an inning, allowing seven runs that were punctuated by a grand slam by former Yankee Raul Ibanez.
"Different guy -- completely different," Mariners manager Eric Wedge said of Hughes. "His fastball was much more alive. He was leveraging the ball better. Because he was consistent and throwing the ball downhill, elevating when he wanted to, his secondary pitches worked off that."
The storm clouds gathered for the Mariners in the third, when Jayson Nix and Brett Gardner hit a pair of singles, with a strikeout of Austin Romine in between. Then came both homers off Harang, with four more consecutive hits to follow.
Beavan didn't begin to warm up until Vernon Wells and former Mariners star Ichiro Suzuki scratched across RBI singles -- the final two knocks in New York's string. Beavan got out of the inning without any further damage, but the Mariners were down, 6-0.
"What we did see today was Blake Beavan as good as we've ever seen him, if not better," Wedge said. "He was tremendous today. He had it all together with his upper and lower half, did a good job of spotting his fastball and used all of his pitches."
Designated hitter Michael Morse made his first appearance for the Mariners since straining his right quad against San Diego on May 29. Morse -- who is tied with Ibanez for most home runs on the team with 11 -- was too rusty to provide much help, striking out in his first three at-bats.
Seattle finally pushed a run across in the eighth inning when Brendan Ryan scored on Kyle Seager's double. Ryan grounded into a fielder's choice and was advanced when Jason Bay's grounder got by third baseman Kevin Youkilis, who was charged with an error on the play.
The Yankees weren't all that concerned with getting only one hit over the final 6 2/3 innings.
"We won't have to face Blake Beavan tomorrow," manager Joe Girardi said with a smile.
Jacob Thorpe is an associate reporter for MLB.com. This story was not subject to the approval of Major League Baseball or its clubs.