Detroit tabs Texas closer Knebel at No. 39
Detroit tabs Texas closer Knebel at No. 39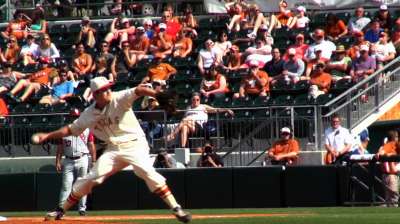 DETROIT -- Corey Knebel wasn't on the Draft radar out of high school. In fact, he wasn't even on the radar for the University of Texas until a scholarship opened up three summers ago, just days before he was heading to junior college.
Less than a year later, he was the latest and greatest in the long line of Longhorn closers, following in the tradition of Huston Street and matching the Texas single-season saves record. Then this summer, he was simply trying to stay on the field.
The biggest surprise of all, though, came Thursday night when the Tigers called. With that, Knebel became a first-round pick.
"It was a huge surprise, actually," Knebel said in a phone interview late Thursday evening. "I didn't think I was going in the first round, so I just kind of waited around the phone and hung out with my family and I got a call."
Technically, the Tigers selected Knebel with a supplemental pick, the first traded Draft slot in Major League history. Detroit acquired the 39th overall pick from the Marlins as a throw-in to the Anibal Sanchez trade last July, taking advantage of the new rules for competitive-balance picks.
It supplemented the Tigers' own first-round pick, the 20th overall selection. But for a Detroit squad that hadn't selected on the first day since 2010, it was a huge bonus.
The Tigers used the pick on one of the most accomplished closers in his school's history, bringing Knebel into an organization that has its share of bullpen concerns at the big league level. For now, however, Knebel's future might not be in relief.
"They've seen me pitching a lot," Knebel said. "They saw me two weeks ago, and I think they've been thinking about me as a starter."
Knebel has had that in mind since the Longhorns' season ended, working out with University of Texas pitching coach Skip Johnson on stretching out his arm, increasing his stamina and mixing his pitches.
Whatever the role, Knebel fits the power-pitching profile the Tigers have sought in the Draft for years.
Knebel is a 6-foot-4 righty boasting a power fastball that sits in the mid-90s and tops out around 98 mph. He complements it with two different breaking balls, a 12-to-6 curveball in the low 80s and a slurve.
He also has dusted off a changeup he threw as a starter but put away in relief.
"I'll definitely have four pitches," Knebel said.
His three pitches were nasty enough in his old role. Knebel went 3-4 with a 3.38 ERA and nine saves this season, striking out 51 batters over 40 innings while allowing just 25 hits. Opponents batted just .179 against him. Add in 28 saves over his first two seasons, and Knebel sits just four saves shy of Street's school career record.
Nineteen of those saves came as a freshman, when Knebel became one of college baseball's Cinderella stories.
"In all honesty, what happened with me I was a starter in high school, and I came to UT by surprise," Knebel said. "I thought I was just going to be a reliever. I never knew what a closer was until I became a closer. I knew of Huston Street. I knew he was a really good pitcher here. I ended up being told I was going to be the closer after a few games of coming in at the end of games."
With instruction from his pitching coach, he gained about 10 mph on his fastball. He came and threw, dealt with the butterflies and and fed off the adrenaline.
When Knebel briefly became a starter near the end of his sophomore season, it was a transition.
"I do feed off all the adrenaline as a closer. That's really what got me going," he said. "When I became a starter, it was a lot different for me. It was hard to handle at the beginning in college, and I was more relaxed, surprisingly. It was a lot different feeling, but it was good."
Knebel was back to closing this spring, but missed games cost him, as he was suspended twice from the Longhorn squad this season. He missed a series against Kansas for a violation of team rules.
Knebel was also suspended for a series against Kansas State for providing a urine sample for a teammate's test, as first reported by the Austin American-Statesman.
The suspensions shouldn't reflect on Knebel's makeup. He was an academic All-Big 12 selection who had no previous disciplinary history. He's just a few semesters shy of his degree.
When he came to Texas, Knebel thought he'd be leaning on his education for a career when he was done. Now, he's getting his chance at pro ball.
"I've never been this excited before," he said. "This is what I want to do with my life. This is my dream, and I'm not going to stop until I pursue my dream."
Jason Beck is a reporter for MLB.com. Read Beck's Blog and follow him on Twitter @beckjason. This story was not subject to the approval of Major League Baseball or its clubs.