Dodgers use second pick on Minnesota lefty Windle
Dodgers use second pick on Minnesota lefty Windle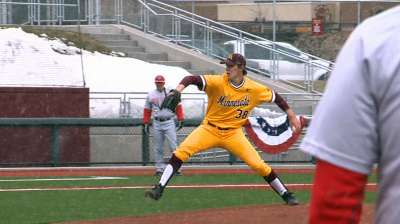 LOS ANGELES -- The Dodgers selected Tom Windle, a left-handed pitcher from the University of Minnesota, in the second round (56th overall) of the 2013 First-Year Player Draft Thursday.
"Proud to be selected by the LA Dodgers!!!" Windle tweeted.
The 21-year-old junior overcame a 2012 left shoulder injury, performed well in the Cape Cod League as a starter and continued to advance this year. He throws three pitches -- fastball, slider and changeup -- while pitching more to contact.
Windle was originally drafted by the Chicago White Sox in the 28th round of the 2010 First-Year Player Draft but didn't sign.
Proud to be selected by the LA Dodgers!!!

- Tom Windle (@tomwindle38) June 7, 2013
"We're going to let him start," said Logan White, Dodgers vice president of scouting. "He has good size [6-4, 210] and a plus slider. He just needs to be more consistent. If we put him in the bullpen, yeah, he could get here real fast. That's not our intention. We'll err on the side of caution, but we're not afraid to move him or (first-round pick Chris Anderson) to fill in the gaps behind Zach Lee and Chris Reed."
Here is MLB.com's scouting report on Windle:
"There are pitchers with arm strength who generate velocity because of arm speed. Then there are those who don't have an overly quick arm, but just use strength to power through. Windle fits into the latter category.
"The Minnesota lefty threw very well in the Cape and was up to 93-94 mph there to go along with a slider and a changeup. He was a Cape League All-Star as a result of his performance.
"That continued into his junior year, where he continued to throw strikes and show he has an idea of what he's doing on the mound. Those kinds of college lefties, even those in cold-climate areas, tend to do well when the Draft rolls around."
Ken Gurnick is a reporter for MLB.com. This story was not subject to the approval of Major League Baseball or its clubs.