Royals draft two big lefties in Manaea, Reed
Royals draft two big lefties in Manaea, Reed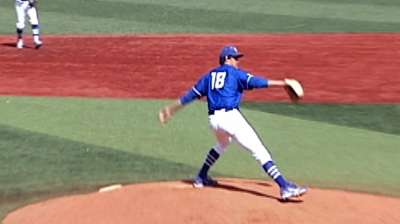 KANSAS CITY -- Left-handed pitcher Sean Manaea, the Royals' second choice in the First-Year Player Draft on Thursday night, is an interesting selection on two counts.
First, he probably won't pitch this season because he's apparently headed for hip surgery, and second, he'll figure in a money-sharing scenario with the Royals' top choice, shortstop Hunter Dozier.
Manaea, a 6-foot-5 left-hander from Indiana State University, was the 34th overall choice in the Draft as the Royals got the first pick of the Competitive Balance Round, determined by a drawing among 13 of the lowest-budget, small-market clubs.
The Royals continued that theme with the selection of another 6-foot-5 left-handed pitcher, Cody Reed of Northwest Mississippi Community College, as their second-round selection (46th overall).
A hard-throwing junior, Manaea had a 5-4 record and a 1.47 ERA with 93 strikeouts in 73 1/3 innings this year for Indiana State but also had a right hip ailment that caused many clubs to drop him from first-round consideration.
"It's something that I would consider minor in the sense that it's a common injury that can occur in a hip, and it's something that I'm comfortable with in assessing the Draft medical," said Dr. Vincent Key, the Royals' head team physician. "He's going to most likely need a procedure on the hip but ... there are numerous athletes that have had this procedure and have done very well."
One of those athletes is Royals left fielder Alex Gordon, and Manaea is headed for the same surgeon, Dr. Marc Philippon of Vail, Colo.
Key called Manaea's ailment an "impingement" that involves labral and bone issues, both of which could be repaired in the same surgical procedure. Recovery time is usually from two to three months.
"He should be ready for Spring Training," Key said.
The Royals are expected to sign their first-round pick, Dozier, for less than the $3,137,800 allotted in their pool for the No. 8 overall selection. The excess then could be spent to increase the $1,623,000 ticketed for Manaea's slot as the 34th overall pick.
Manaea, 21, was ranked 13th in MLB.com's pre-Draft Top 100, while Dozier was 46th. The Royals' total Draft allotment is $8,290,700, ranking sixth among Major League clubs.
"We're no different than any other club," general manager Dayton Moore said. "You want to use those dollars wisely to maximize your picks, and that's what we try to do."
Manaea was regarded as a high first-round choice before his hip ailment surfaced, and clubs cautiously backed off. When their chance came one pick after the first round, the Royals grabbed him.
"It's the scenario that we had in mind," Moore said.
Manaea surged into prominence last summer in the Cape Cod League, where he was 5-1 with a 1.22 ERA and 85 strikeouts in just 51 2/3 innings. He was named the league's outstanding pro prospect.
"This guy coming into this year was at the very top of our board," Royals assistant general manager J.J. Picollo said. "He had an outstanding summer at the Cape, our reports were top-notch. Early reports this season were top-notch."
Manaea tried to pitch through his hip ailment at Indiana State, and it worsened. Even so, Picollo said that the Royals still were considering him as a first-round possibility as recently as Wednesday.
Reed, 20, has a collegiate commitment to Ole Miss, but Lonnie Goldberg, the Royals' director of scouting, expects him to sign. His slot number is $1,198,500.
For Northwest Mississippi, Reed had an 8-3 record with a 2.39 ERA and 96 strikeouts in 73 1/3 innings. He pitched five complete games.
"I think we're catching him on the rise. So we're pretty fortunate to get two big arms to follow right behind Hunter," Goldberg said.
Goldberg saw more similarities than size in the two left-handed pitchers.
"Both of them being big and left-handed helps," Goldberg said. "Both of them have been up to 95, 96 [mph], with breaking balls, both are competitive, both have had success, both have swing-and-miss fastballs."
Dick Kaegel is a reporter for MLB.com. This story was not subject to the approval of Major League Baseball or its clubs.