Rockies' streak vs. Padres ends in extras
Rockies' streak vs. Padres ends in extras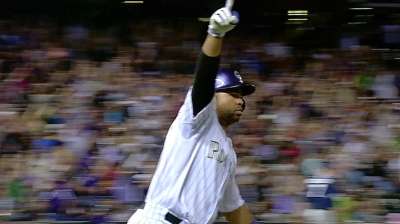 DENVER -- Just when it looked as if the mojo that brought the Rockies six homers on Wednesday had disappeared, Wilin Rosario halted any such theory with a game-tying, two-run homer in the eighth.
But even that was not enough for the Rockies to overcome early offensive struggles in a 12-inning, 6-5 loss to the Padres at Coors Field Thursday night. However, the deciding run crossed on a play that will draw scrutiny.
With the bases loaded and one out in the top of the 12th, the Padres' Yasmani Grandal hit a grounder down the third-base line off Rockies reliever Manuel Corpas (0-1). Third baseman Nolan Arenado corralled it and attempted a touch-and-throw double play. He scampered to third, where the out was granted even though replay shows he released the ball before making contact with the bag. His throw to first was scooped by first baseman Jordan Pacheco, but the runner was called safe and the run counted, making it 6-5. The replay another umpiring mistake, this one going against the Rockies, as the throw beat the runner.
Rockies manager Walt Weiss and Arenado both said the runner was out at first.
"When I threw it, I thought he was out and then I looked at the replay, he was really out," Arenado said. " ... It sucks that the tides turn like that right there. That was a big play.
"It was too high to go home and I didn't have a good angle to throw the ball home. So I knew that was the only way and I couldn't touch third and throw to first, I didn't have enough time. So I tried to, maybe in one motion, see if I could scam it or something. But it just didn't work out."
The series-opening loss was the Rockies' first in seven meetings with the Padres. It was only Colorado's second loss in its last six games.
Eric Young Jr. nearly had the walk-off hit in the 11th, when center fielder Cameron Maybin chased down a deep fly ball into right-center and made an impressive over-the-shoulder catch.
"I though EY's ball was going to be over Maybin's head and Maybin made a heck of a play on that ball," Weiss said. "Had to go a long, long way to catch that ball."
Padres starter Andrew Cashner surrendered three runs over seven innings, walking two and striking out four. Before Thursday Cashner carried a towering 14.54 ERA -- his highest against any team -- in seven appearances against Colorado.
But the Padres right-hander held Troy Tulowitzki and Carlos Gonzalez, who combined for five home runs and nine RBIs Wednesday, to a combined 0-for-11.
"I think the biggest thing was when those two guys came up was locate," Cashner said. "It's not so much about speed and all that. I was focusing and trying to bear down on locating the ball."
Rockies starter Jhoulys Chacin entered Thursday's game with a dominant 4-1 record and 2.40 ERA in his career against San Diego. Chacin allowed just two baserunners in the first three innings before the Padres took control with a four-run fourth. The righty gave up all five of the Padres' runs and struck out four in 5 1/3 innings.
Chase Headley got the offense rolling in the fourth with a single and dug himself into a deeper hole when he walked Carlos Quentin. Jedd Gyorko then pulled a ball just past the glove of Arenado and into left field to score the Padres' first run. Mark Kotsay's RBI groundout made it 2-0 Padres.
Maybin -- who made his presence felt on both ends in his first game back from the disabled list -- hit a dribbler toward Arenado, who tried to throw out Gyorko at home. The umpire called Gyorko safe in a very close play.
Maybin stole second and catcher Roasrio's throw flew into center field to move him to third. Rosario's error turned into another run when Nick Hundley drove Maybin in on a groundout to put San Diego up, 4-0.
"I started getting behind in the count and after that I had to throw strikes," said Chacin, who earned his fifth consecutive no-decision. "I think before giving up the [Gyorko] double, I really made my pitches. It just was bad luck. The guy was out, he called it safe."
Right fielder Michael Cuddyer helped chop away at the deficit in the bottom of the fourth with a double into center to score Arenado, who lead off with a double to and finished 2-for-6.
Still searching for an offensive rhythm in the fifth, DJ LeMahieu provided a spark with a double to left-center. He stole third and crossed home when Headley skied the ball over the third baseman's head.
The Rockies threatened in the sixth when Pacheco ripped a double into the right-field corner and Rosario followed with a double to make it a two-run deficit. Pinch-hitter Todd Helton brought the Coors Field crowd to its feet with two runners on before his ball died on the warning track.
Maybin ended Chacin's night with an RBI single in the sixth to put the Padres up three. Rob Scahill prevented further damage, striking out two to strand runners at first and second.
Ian McCue is an associate reporter for MLB.com. This story was not subject to the approval of Major League Baseball or its clubs.