Padres finally solve Rockies in 12 innings
Padres finally solve Rockies in 12 innings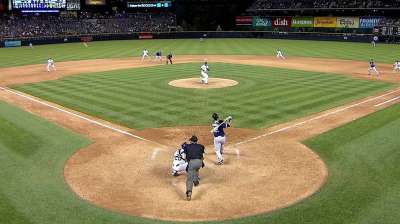 DENVER -- The Padres snapped their six-game drought against the National League West-rival Rockies with a 6-5 victory in 12 innings on Thursday night, thanks to a rally that saw Chase Headley scamper home on a controversial safe call at first base.
The calendar read June 6 as the Padres and Rockies opened their third series of the season, but it felt like Groundhog Day all over again as the Rockies nearly snatched a victory from the Padres, who entered the game 0-6 against Colorado this season.
San Diego rode a four-run fourth to a cushion that lasted into the eighth inning, leading all the way until Jordan Pacheco sparked the Rockies' second two-out, run-scoring rally of the night with a single to right and Wilin Rosario launched a no-doubt clout into the left-field seats for a game-tying two-run homer.
The Padres broke the deadlock in the 12th, set up by a one-out single from Headley, a double in the right-center gap from Kyle Blanks and an intentional walk to Jedd Gyorko. Yasmani Grandal knocked a high hopper to third, and Nolan Arenado fielded it in foul territory, and (not in this order, it turned out) stepped on third and threw to first, where Grandal was called safe as the go-ahead run crossed the plate. Replays indicated the throw beat Grandal, easily by big league standards, but also that Arenado released the ball before stepping on third.
"All I saw was the ball bounce and the next thing you know he's calling me safe," Grandal said. "My first reaction once I hit the ball, I thought it was foul. As soon as that happened, I just started going. I didn't even know he tagged third. I put my head down and started running."
Both clubhouses seemed to agree the odd play featured missed calls on both ends. Two wrongs made a right, Headley's run counted and the Padres were Brad Boxberger's first career save away from finally solving the Rockies.
"It was chopped, it was too high to go home and I didn't have a good angle to throw the ball home," Arenado said of the first part of the play. "I couldn't touch third and throw to first, I didn't have enough time. So I tried to, maybe in one motion, see if I could scam it or something. It just didn't work out.
"At first, he was out. When I threw it, I thought he was out. And then I looked at the replay, and he was really out. It sucks that the tides turn like that right there. That was a big play."
The Padres had been riding the tide until the eighth. By the 12th inning, it was a distant memory, but it started with seven solid innings from Cashner, who held the Rockies to three runs on seven hits and two walks, one intentional, for his fifth quality start of the season. Looming large among the keys to the Padres success was Cashner's ability to contain Carlos Gonzalez and Troy Tulowitzki, who combined for five home runs, eight hits, and nine RBIs in a rout of the Reds the night before but were 0-for-11 with a 12th-inning walk against the Padres.
"This is a place that's always been tough for me to pitch," Cashner said. "I was able to keep the ball down. I threw a lot more sinkers than I usually do. I really wanted to minimize the damage with Tulo and CarGo. The biggest thing when those two guys came up was to locate. I was focusing and trying to bear down on locating the ball."
Cashner held the Rockies hitless for the first three innings until Arenado led off the fourth with a double to center. Michael Cuddyer legged out a two-out double to plate Arenado and bring the Rockies within three.
Colorado scored in four of the next five innings, but it looked like San Diego's four-run outburst in the top of the inning would hold up. After three hitless innings following Everth Cabrera's first-inning leadoff double to right, the Padres piled on in the fourth frame. Headley sparked the rally with a leadoff single to right, and after a Carlos Quentin walk, Gyorko doubled down the left-field line to bring home Headley.
Quentin came home on Mark Kotsay's grounder to second, and Gyorko scored on Cameron Maybin's grounder to third when Arenado fired home for a bang-bang play at the plate that found Gyorko sliding under Rosario's tag. After Maybin stole second and advanced to third when Rosario's throw sailed into center, Nick Hundley kept the rally alive with a run-scoring grounder to short.
As close as the game was, the ability to neutralize Gonzalez and Tulowitzki for 12 innings couldn't be overstated.
"It's hard to do, especially the way they're swinging," Padres manager Bud Black said. "To hold those two guys down after the way they swung the bat yesterday, for our guys to make pitches and keep them to no hits and no damage -- we made some big pitches all the way through by our guys."
The Rockies kept climbing in the middle innings, and the Padres kept fending them off. Cashner left leading, 5-3, after seven, establishing a winning approach against the heart of the Rockies lineup that gave the Padres the opportunity to finally notch a win against their division rivals.
"I liked how the game turned out," Black said. "There was some tremendous baseball along the way, no doubt about it. There were some big clutch pitches, some big hits on both sides. Some good defensive plays. It was a hell of a game. I'm proud of our guys. They battled all the way through, all of them. We used everybody again, with the exception of a couple of pitchers. So great game, a lot of resolve from our group. It was a great win. If you lose out on the other end, it's a tough one."
Owen Perkins is a contributor to MLB.com. This story was not subject to the approval of Major League Baseball or its clubs.