Rockies take lefty Moll with third-round pick
Rockies take lefty Moll with third-round pick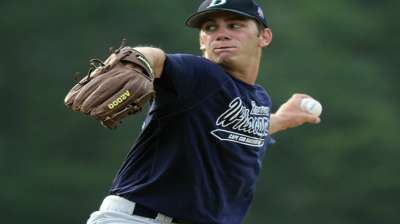 The Rockies began Day 2 of their 2013 First-Year Player Draft by selecting lefty Sam Moll with the 77th overall pick.
At 5-foot-11, 187 pounds, Moll may not be the biggest guy in the world, but the Memphis southpaw makes up for it with arm strength. Moll, Memphis' Saturday starter, can touch the mid-90s at times with his fastball.
While Moll made 15 starts with the Tigers this year, some scouts say his arsenal is best-suited for a bullpen spot as a short-term reliever.
"We're going to provide the best tools available, meaning in this case, Sam Moll is a left-hander that has started, and time could dictate that we might make a move to the bullpen," Rockies senior director of scouting operations Marc Gustafson said. "But we're not going to talk about that yet with this young man."
Moll's curveball is a potential out pitch with a hard, sharp break to it, and his changeup has the chance to be an average offering, though he has to become more consistent with his arm speed.
In 48 2/3 innings, the junior limited opponents to a .202 batting average and struck out 67 batters. Moll went 5-2 with a 2.77 ERA for the Tigers. He earned 2013 preseason All-Conference USA honors, voted on by the league's nine head coaches.
He was the third-highest draft pick in program history and the third Tigers player drafted by the Rockies. Strong and athletic, he has a bulldog mentality and goes right after hitters.
"He's an up-tempo, high energy, competitive kid that throws strikes, and it is always important with these young pitchers that they get their development process in between starts," Gustafson said.
After Moll, Colorado drafted right fielder Jordan Patterson, a dangerous swinger out of South Alabama. In the fifth, the Rockies grabbed right-hander Blake Shouse out of Middle Georgia College and then third baseman Dom Nunez from California's Elk Grove High School in the sixth.
The seventh round brought a proven college right-handed starter in Arizona's Konner Wade. In the eighth round, the Rockies drafted center fielder Terry McClure -- a raw but athletic prospect -- from Riverwood International Charter School in Georgia.
The Rockies' spent their ninth round selection on defensively-gifted UCLA shortstop Patrick Valaika. Their final pick in the 10th round reeled in right fielder Michael Tauchman from Bradley, the 2013 Missouri Valley Conference Player of the Year.
The Rockies' Minor League system is loaded with offensive talent, and a lefty like Moll will certainly help the Rockies bolster their depth on the mound. By grabbing hard-throwing righty Jonathan Gray with the third overall pick and taking four other pitchers in the first 10 rounds, Colorado demonstrated its primary objective was to find reliable arms that can handle hitter-friendly Coors Field.
Patterson and McClure -- the two primary outfield prospects -- could eventually fill the holes around the Rockies' two offensive centerpieces, Troy Tulowitzki and Carlos Gonzalez. However, top outfield prospects like Kyle Parker and David Dahl have a head start in the path to the big leagues.
Nunez and Valaika could both turn into defensive studs, helping to round out a Rockies lineup with plenty of powerful bats.
Ian McCue is an associate reporter for MLB.com. This story was not subject to the approval of Major League Baseball or its clubs.