A's hit four home runs to rally past White Sox in 10
A's hit four home runs to rally past White Sox in 10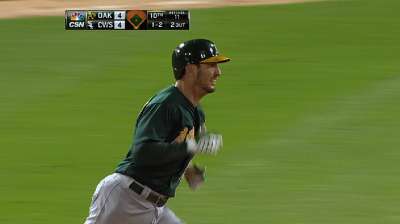 CHICAGO -- With their 5-4 comeback victory over the White Sox in 10 innings on Thursday night, the A's have won six of seven and 17 of 20 to remain one of the hottest teams in Major League Baseball.
How hot? It is nearly impossible to select a star of game most responsible for the win.
Was it shortstop Adam Rosales, from nearby Park Ridge, who provided the game-winner with a solo home run in the 10th and drove in a run earlier in the game with a double?
Maybe it was right-fielder Josh Reddick, who tied the score at 4 in the seventh with a solo homer and also threw out a runner in the fifth inning to keep the A's within striking distance and thwart a potential big inning for the White Sox?
And then there's Yoenis Cespedes, who homered twice in the game -- the second time he's done that in three games -- to start the rally from a 3-0 early deficit.
Afterward in the visiting clubhouse, no one was about to select one player. They were too busy celebrating and enjoying moving 12 games over .500 (37-25) for the first time this season.
"This is great," Reddick said. "I had the pleasure of watching these guys when I was hurt and they were playing excellent baseball. I said I was coming back and trying not to screw anything up. I've done pretty good so far.
"All I can do is keep jumping on this train and keep getting strong so I can help this pitching staff."
Early on, though, it looked like the A's magic might be ending when the White Sox took a three-run lead in the third.
But then Cespedes cracked a 1-1 fastball from Chicago starter Jose Quintana well over the fence in left-center to trim the deficit to 3-1. The A's added another run in the top of the fifth on a run-scoring double by Rosales to make it 3-2, but the White Sox got the run right back in the bottom of the inning on a single by Alejandro De Aza. They could have scored more, but Reddick threw out catcher Tyler Flowers at the plate trying to score on a flyout by Adam Dunn. The double play ended the inning and kept the score at 4-2.
"Throwing out a guy at the plate is an RBI for me," A's manager Bob Melvin said. "It's another run for them, it's a momentum swing back to our dugout. Sometimes a defensive play can have just as big of an impact as an RBI or a home run.
In the top of the sixth, Cespedes again inched the A's closer with a solo homer -- this one to right-center -- to make it 4-3. It was Cespedes' 13th home run and his second two-homer game of the week. He also hit a pair in Milwaukee on Tuesday for the first multi-homer game of his career. It's also the first time an A's player has done that in a three-game stretch since John Jaha in June 1999.
"Just being him," Melvin said of Cespedes. "The second one for him, right field, not much is going out the opposite way tonight. It takes a strong man to hit it out the opposite field tonight. We've seen his power before. It doesn't matter where he is when he squares one up."
The A's continued to play solo long ball and tied the score on a mammoth homer by Reddick in the top of the seventh that landed four or five rows over the right-field bullpen and was estimated at 418 feet. It was just Reddick's second homer of the season and ended a streak of 30 homerless games for him. He hit 32 homers last year.
"It felt great," he said. "It's been almost two months since I hit one. Especially off a great lefty. Quintana is tough and I guessed right."
And when they're not guessing right, the A's are doing just enough to keep things in their favor. That certainly was evident in the 10th when Rosales smacked a high fastball on a 1-2 pitch off Matt Thornton (0-2). Thornton, no doubt, wanted the pitch a little higher out of the strike zone, but Rosales didn't miss it.
"It was really special," Rosales said. "I had family in the stands, a lot of friends. I grew up a Cubs fan, but I grew up coming to this ballpark. Playing on this field is a great opportunity and to do that is unbelievable for me."
For a moment, it appeared that Dunn might have given the White Sox a dramatic win when he hit an outside fastball from A's closer Grant Balfour with a runner on and two out in the bottom of the 10th that sailed high toward the left-field fence. But Cespedes settled under the ball just in front of the wall to make the catch and end the game.
All of which left the White Sox to ponder what might have been.
"It would be easy to say, but we had opportunities it seemed like quite a bit during the game and couldn't capitalize on them again," Dunn said. "I don't think we should have been in that situation anyway."
John Jackson is a contributor to MLB.com. This story was not subject to the approval of Major League Baseball or its clubs.