Dunn, White Sox come up just short in 10 innings
Dunn, White Sox come up just short in 10 innings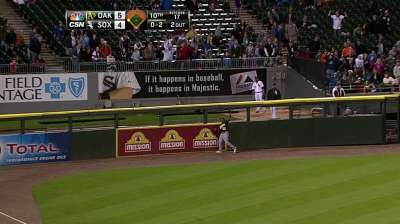 CHICAGO -- The fans at U.S. Cellular Field rose to their feet when Adam Dunn lifted a towering fly ball toward the left-field warning track with two outs in the 10th inning Thursday. But they headed up the aisles disappointed after Yoenis Cespedes secured the final out of the A's 5-4 victory.
That's just how things have been going for the White Sox over the last week and a half. They dropped their ninth game in their last 10 tries, spoiling their long-awaited return home after ending an eight-game losing streak in 16 innings in Seattle on Wednesday.
Interim manager and bench coach Mark Parent, who was filling in for Robin Ventura while Ventura is attending his daughter's graduation, said he thought Dunn's drive was a home run off the bat. After reflecting on the actual result, he briefly let out a laugh. He found the symbolism of Dunn's long out comical. It summed up the South Siders' season, now in need of some saving, so perfectly.
"When he hit that ball, I thought it was out," Parent said. "The way the ball appeared to be flying, I thought it was going to go. That sums up a lot of stuff lately. The guys battled tonight. Even after the late arrival last night and the long game yesterday, they had a lot of energy."
Balls have been dying at the wall, close games seem to be going the wrong way and the White Sox can't seem to string together the wins they need to close the gap in a division that's letting them hang around.
Entering Thursday's game, the White Sox were hitting .213 and had managed one home run in the nine games, dating back to the start of their losing streak. The power outage remained a problem for Chicago while Oakland hit four home runs on Thursday. That included the game-winning drive, a two-out 10th-inning home run by Oakland shortstop Adam Rosales off reliever Matt Thornton.
"The one the guy hit off Thornton, I think he was guessing along with him when he busted him in right there," Parent said. "I think [Tyler] Flowers was trying to make a point because he thought we could go further in. … It had been working all night. But Rosales, the fourth or fifth time up, he just cheated on it."
Oakland made a tired White Sox bullpen work into extra innings. In his pregame press conference, Parent said his team desperately needed Thursday's starter Jose Quintana to work deep into the game after the bullpen had worked 16 2/3 innings over the previous two days. Quintana obliged, throwing 7 2/3 innings and allowing four earned runs, including three home runs.
Parent said the home runs Quintana allowed were mostly the result of bad location, but his left-hander gave the team the innings it needed. The offense just couldn't produce late in the game.
The White Sox broke out of their scoring slump early, plating three in the third inning on a two-run double by shortstop Alexei Ramirez and an RBI single by outfield Alex Rios.
Center fielder Alejandro De Aza drove in Gordon Beckham from third for the fourth run on a single in the bottom of the fifth. They nearly got another in the inning, but Flowers was thrown out at the plate by outfielder Josh Reddick attempting to tag up on Dunn's fly ball.
"Everything was in my favor coming in hard," Reddick said. "I had my momentum going that way. I haven't had a whole lot of guys run on me this year, so I feel like my arm has been saved a little bit. You still have to make a good throw even though you have a catcher running."
Then the Athletics rallied from a 4-1 deficit, scoring single runs in the fourth, fifth, sixth and seventh innings to tie the game. Cespedes hit his 12th and 13th home runs of the season off Quintana, and Reddick also homered in the seventh inning on a 418-foot shot to right field.
The A's pulled starter Dan Straily with the game still knotted at 4 after seven innings. He allowed all four of Chicago's runs on six hits while striking out three, but, like Quintana, left the game with a no-decision.
The White Sox stranded Rios on second base with two outs in the bottom of the ninth when Oakland reliever Jerry Blevins got Flowers to strike out looking to end the inning.
The White Sox once again struggled to produce the run they needed to put them over the top. They were 3-for-10 with runners in scoring position.
"They took the ball out of the park and we just didn't get it done. It was just one of those games," White Sox second baseman Gordon Beckham said. "We need to start winning some games or we might be saying bye to some people in July. Hopefully we can start winning and get a streak going."
Chicago's next opportunity to start a winning streak will have to wait until the second game of the series on Friday. The White Sox are 5-16 in the first game of a series and dropped to 10-11 in one-run games.
As for Dunn, he watched his ball fall into Cespedes' mitt and looked back at the opportunities the White Sox missed over the course of the game, but he's not yet ready to give up on the season.
"I think we had that feeling three weeks ago," Dunn said. "I hope guys realize that this is a marathon and we're one, two, three weeks away from being tied, if not right up there. There should be a sense of urgency, but I'm not panicking."
Ethan Asofsky is an associate reporter for MLB.com. This story was not subject to the approval of Major League Baseball or its clubs.