Twins build lead early, unable to hold it late
Twins build lead early, unable to hold it late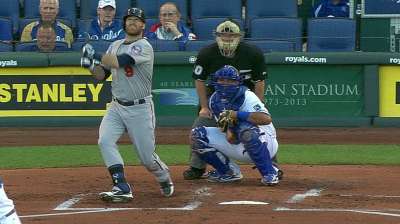 KANSAS CITY -- When he walked through the bullpen gate and headed for the mound Thursday night, Jared Burton was on a five-game roll. Over that span, he had allowed just one hit over five innings and had four holds and a save to show for that glossy worksheet.
But the good times don't last forever, and Burton and the Twins were rudely reminded of that baseball truth in the eighth inning against the Royals. Burton surrendered four runs in rapid-fire fashion as the Royals snapped a tie and went on to a 7-3 victory. Eric Hosmer had an RBI single that gave Kansas City the lead, and insurance came in the form of Billy Butler's RBI double and a two-run homer by Lorenzo Cain.
For the Twins, who had a 3-0 lead in the first inning and missed several opportunities to put the Royals in a deeper hole from the third through the fifth, it was a stinging loss to take with them on their late-night plane ride to Washington, D.C.
"This one hurts," Burton said. "We needed this series, and we deserved this series. I went out and gave it up. Either you execute or you get executed. It didn't happen for me tonight."
Burton faced Alex Gordon to open the eighth and made Gordon look bad on two quick strikes. But the left-handed-hitting Gordon then sliced a drive to left-center, and center fielder Clete Thomas -- making his first start since being called up from Triple-A Rochester -- raced over and made a diving attempt for a highlight-reel catch. The ball ticked off his glove, and Gordon wound up with a double.
"I thought I had it the whole way," Thomas said. "I was playing on the pull side of second. Should have had it, thought I had it."
Hosmer didn't hit the ball hard, but found a hole on the right side for the RBI single that put Kansas City ahead. The RBI double by Butler and two-run homer by Cain just made the offensive job against Royals closer Greg Holland that much tougher.
"Over the course of the season, you are going to give up lasers right at people, and you're going to have balls fall in here and there," Burton said. "It looked like they had a good plan against me as far as the pitches they were swinging at. They fell in for them. It happens."
The Twins (26-31) have now had a two-game hiccup after enjoying an 8-2 stretch. They're just 1-5 against the Royals (25-32), who won their first series since May 13-15 against the Angels.
"It was a good ballgame, but there at the end we kind of let it get away," Twins manager Ron Gardenhire said. "Burton doesn't have too many nights like that where he doesn't shut them down."
Whereas the Twins had given up three unearned runs in the first inning of Wednesday's game, the Royals allowed three unearned runs in the first inning on Thursday.
A throwing error by Mike Moustakas on Jamey Carroll's grounder provided an opportunity, and the Twins cashed in against Royals starter Wade Davis. Carroll wound up scoring on a wild pitch, and hot-hitting Ryan Doumit capped the inning with a two-run homer to right. It was the fifth homer for Doumit in his last nine games.
Twins starter Mike Pelfrey gave up a two-run single to Chris Getz in the second before the Twins left a combined seven runners on base from the third through the fifth. The Twins loaded the bases with one out in the third, but Doumit struck out and Chris Parmelee bounced to second.
"We had chances again with people out there," Gardenhire said. "We got the big homer from Doumit in the first, but after that we went cold."
A run-scoring single by Salvador Perez in the sixth made it 3-3 and set the stage for the decisive eighth. The silver lining for Minnesota revolved around an encouraging start from Pelfrey, who worked 6 1/3 innings and allowed seven hits and three runs.
"Pelfrey did fine," Gardenhire said. "In talking with [catcher] Doumit during the game, he said the ball was really moving. His splitter was good, and that was the best he has seen him, which is a positive for us. We needed that."
Robert Falkoff is a contributor to MLB.com. This story was not subject to the approval of Major League Baseball or its clubs.