Righty Church gives Mets high schooler trend
Righty Church gives Mets high schooler trend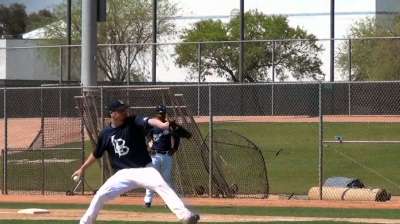 WASHINGTON -- With Mets scouts in attendance, amateur first baseman Dominic Smith and pitcher Andrew Church squared off this season in a tournament in Las Vegas. The two had no idea they would soon become teammates, after the Mets selected Smith 11th overall and Church 48th in the 2013 First-Year Player Draft.
What impressed the scouts most that day was Smith, who homered and doubled off Church, according to amateur scouting director Tommy Tanous.
"But [Church] pitched extremely well in the game," Tanous said of the right-hander out of Basic (Nev.) High School. "I went back to see Andrew pitch at his high school playoffs and he was tremendous in that game, winning the game. He was absolutely tremendous, throwing up to 93 (mph) in the last inning and punching out the last batter."
With their second-round selection of Church, the Mets completed Day 1 of their Draft having acquired two new high school players for the farm. Vice president of amateur scouting and player development Paul DePodesta said the lack of college selections "wasn't intentional," and that he was simply trying "to get the best player available."
In Church, DePodesta sees a starting pitcher with mid-rotation potential, thanks in part to a potentially elite breaking ball. Church had an unorthodox high school career, sitting out part of this season after his transfer from Palo Verde High School in Las Vegas rendered him ineligible to play. To enter the Basic school district, Church moved away from his parents to an apartment by himself.
Assuming the Mets sign him away from his commitment to the University of San Diego, Church is moving on again -- this time to a professional career.
"He could log a lot of innings because he repeats his delivery very well," DePodesta said. "He's athletic. He works fast. And I think he really fits into our overall organizational pitching philosophy. We do think he's got a chance to be a solid middle-of-the-rotation guy."
Anthony DiComo is a reporter for MLB.com. Follow him on Twitter @AnthonyDicomo. This story was not subject to the approval of Major League Baseball or its clubs.