Reversal of fortune: Peralta struggles vs. Phillies
Reversal of fortune: Peralta struggles vs. Phillies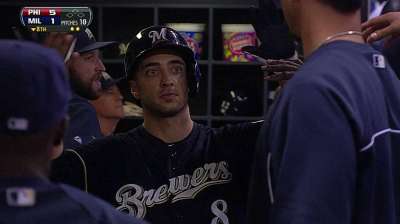 MILWAUKEE -- In a season that has been hard to figure out, manager Ron Roenicke thought he knew exactly what to expect from his starting pitcher in Thursday's series opener against the Phillies at Miller Park.
Wily Peralta had, after all, just pitched well against the Phillies five days earlier, tossing seven innings and yielding eight hits and two earned runs, while walking one and striking out six in the Brewers' win in Philadelphia on Saturday.
Peralta, though, struggled to get through five innings on Thursday, laboring through the first three frames before exiting and watching opposing starter Tyler Cloyd comfortably lead the Phillies to a 5-1 win.
The Brewers, who have lost 18 of their last 25 games, dropped to 15 games under .500 for the first time this season. The Phillies have won a season-high five games in a row and rose to one game over .500 for the first time.
"I knew there'd be some ups and downs with [Peralta], but he's got too good of stuff to go out there and most nights not command the ball," Roenicke said. "He gets flustered, he gets mad. We know there's going to be games where he's going to struggle, but I don't think he should be struggling like this."
The 24-year-old right-hander threw 79 pitches through the first three innings and trailed 4-0 before Brewers leadoff hitter Norichika Aoki made his second plate appearance.
Peralta was done after five innings, allowing seven hits and five earned runs, while walking four and striking out two.
The timing was not good for a short outing as the Brewers are counting on relievers Alfredo Figaro and Tom Gorzelanny to start Friday and Saturday's games, respectively, with starters Marco Estrada and Hiram Burgos on the disabled list and Chris Narveson still working his way back to the team.
"It would've helped to have him go longer, certainly, and I expected him to," Roenicke said. "He just didn't throw the ball where he wanted to."
The Phillies burst out of the first-inning gate with three consecutive singles to set up a Ryan Howard sacrifice fly. After a Domonic Brown walk, a Peralta offering in the dirt caromed away from catcher Jonathan Lucroy for a wild pitch and a 2-0 Phillies lead.
Peralta managed to escape the 19-minute top of the first inning without further damage, but the Phillies worked him for single tallies in the second and third innings and Delmon Young launched his sixth home run, a solo shot, to center field in the fifth, supplying Philadelphia with a 5-0 cushion.
Peralta left the game after throwing 99 pitches, 56 for strikes.
"Overall, I didn't have my best command today and I [left] a lot of pitches up in the zone," said Peralta after his record dropped to 4-7. "This game, you have to locate. Today, when I go ahead, with a slider, every time I tried to throw a slider for a strike, it was a ball, so I just fell behind."
"I guess he felt a little out of whack or something," said Lucroy of Peralta. "I'm not sure. It's hard in baseball sometimes, guys are off then they're on, it really is a day-to-day game. Really hard to put a finger on, I guess."
Offensively, the Brewers were stuck in neutral against Cloyd. The right-hander tossed 6 2/3 scoreless innings, allowing four hits, while walking five and striking out two. He improved to 2-2 in five starts this season.
The Brewers' best chance to score came in the bottom of the sixth inning when Ryan Braun and Aramis Ramirez reached with nobody out. But Lucroy popped out, Carlos Gomez flew out to the warning track in right-center field and Juan Francisco popped out to end the inning.
The Brewers' lone run came on a Lucroy RBI groundout in the eighth inning.
"As hitters, it's hard. Whenever you're down like that, it's hard to come back and fight," Lucroy said. "That's what happened tonight. It's happened a lot lately. Hopefully we can get things moving forward and get out of that first inning and start scoring runs."
Michael Young and John Mayberry had three hits each for Philadelphia.
Brown, who went 6-for-11 with three home runs and eight RBIs in last weekend's three-game set against the Brewers, had two more hits for the Phillies.
Kevin Massoth is an associate reporter for MLB.com. This story was not subject to the approval of Major League Baseball or its clubs.